Starting with the second VCT Challengers Qualifier of Stage 01 we will see more best-of-three series and seeding for the best teams from the last qualifier. After receiving valuable community and competitor feedback on the first weekend of VALORANT Challengers, we took some time to optimise the format for the Challengers qualifiers. The changes will be in effect from the next qualifying phase starting on Tuesday, 16 February, in EU and Tuesday, 23 February, in CIS and TR.

Henceforth, in the round-of-256 up to 232 teams fight for a spot in the round-of-128. There, they meet the twelve teams which received slots based on their performance in the week prior: the slots go to the four Play-In teams that didn't reach the Playoffs as well as the eight teams from the round-of-16 not qualifying for the Play-In. The Challengers will see best-of-threes from the round-of-128 onwards, rather than from the round-of-32. *

The goal of the VCT is to determine the best of the best in their respective region. We don't want to limit the tournament to 128 teams but give more participants an opportunity to prove themselves. For that reason, there will be still a best-of-one in the round-of-256. The teams which sign up first will get the slots for this first round. By implementing the changes above we aim to reward consistency and reduce randomness. We want results to have more weight, be it in victory or defeat.

* Note:
There will be a one-time exception to this: in the upcoming week, we will put 14 teams into the round-of-128, not 12. We had several great teams ranked in the Top-10 in last week's Qualifier that dropped out in the best-of-1 format.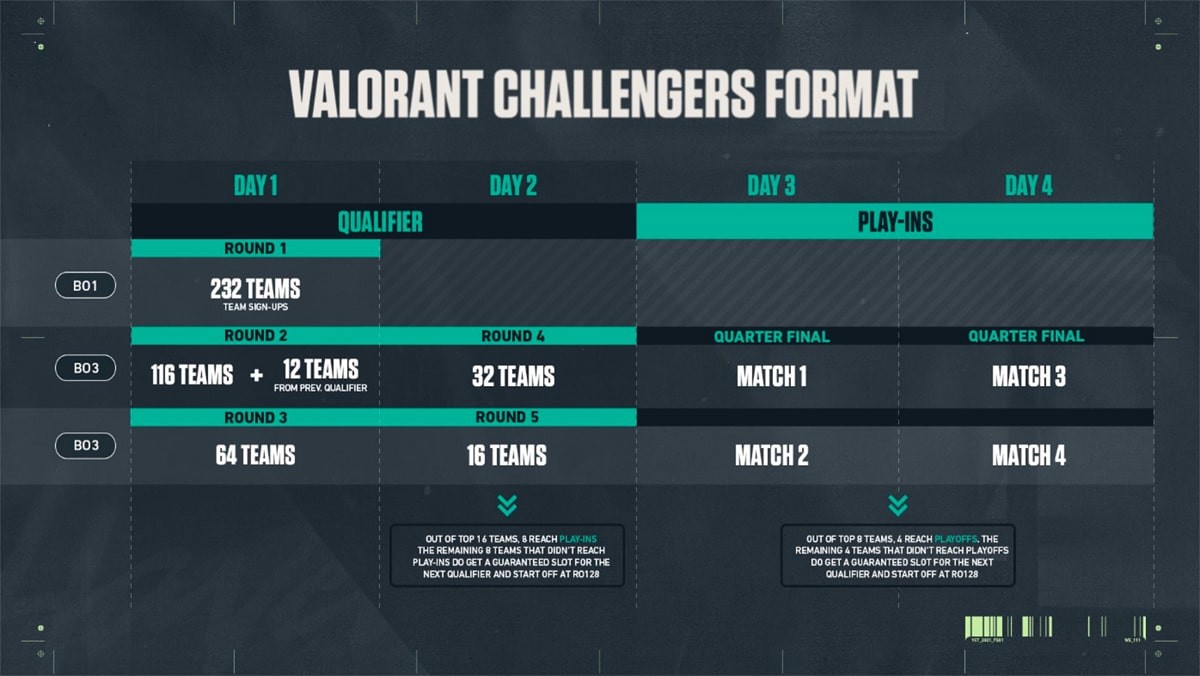 The new format features more best-of-threes and awards slots for the best teams that didn't make the cut in the next qualifier.
Photo credit: Riot Games
Photo credit: Riot Games