The best eight teams of Stage 1 will meet for the ultimate showdown at VALORANT Masters. Who will take their first step towards VALORANT Champions? With Week 3 on its way, let's take a look at what's just around the corner: the VCT Regional Masters EMEA! EU, CIS and TR will each hold an event featuring the top 8 from VCT Challengers and take their chance to play on the world stage at the end of the year. On top of that, there will be a notable sum of prize money to reward the best team in each region.

You'll be able to follow the VCT Regional Masters action over two weekends: the first part of the group stage takes place from 12 to 14 March, the group stage's conclusion, the semifinals and finals from 18 to 21 March.

Schedule


| Date | Stage |
| --- | --- |
| 12 March | Group A+B: UB R1 - M1 |
| 13 March | Group A+B: UB R1 – M2 |
| 14 March | Group A+B: LB R1 |
| 18 March | Group A+B: UB R2 |
| 19 March | Group A+B: LB R2 |
| 20 March | Semifinals 1&2 |
| 21 March | Finals |
The Masters format


In each of the VCT Regional Masters, the eight teams will be split up into two groups. The groups feature two teams from each of the Playoffs. The group stage begins on 12 March and will be played in a best-of-three GSL-format.

Here is how this works: in every group, the teams play a best-of-three series against one other participant. This leaves us with two winning and two losing teams per group. Next up, the winners play a best-of-three against each other to determine the first team advancing to the semifinals.

Meanwhile, the two teams that lost their first games will face each other. Whoever loses this series is out of the tournament. The winner will have one more match against the loser from the match determining the first semifinalist. Simply put, teams that lose twice in the group stage are out; teams that win twice advance.

After this, we are left with four teams in the semifinals. The tournament will switch to a single-elimination format. The semifinals will be played in a best-of-three series, the finals will be a best-of-five.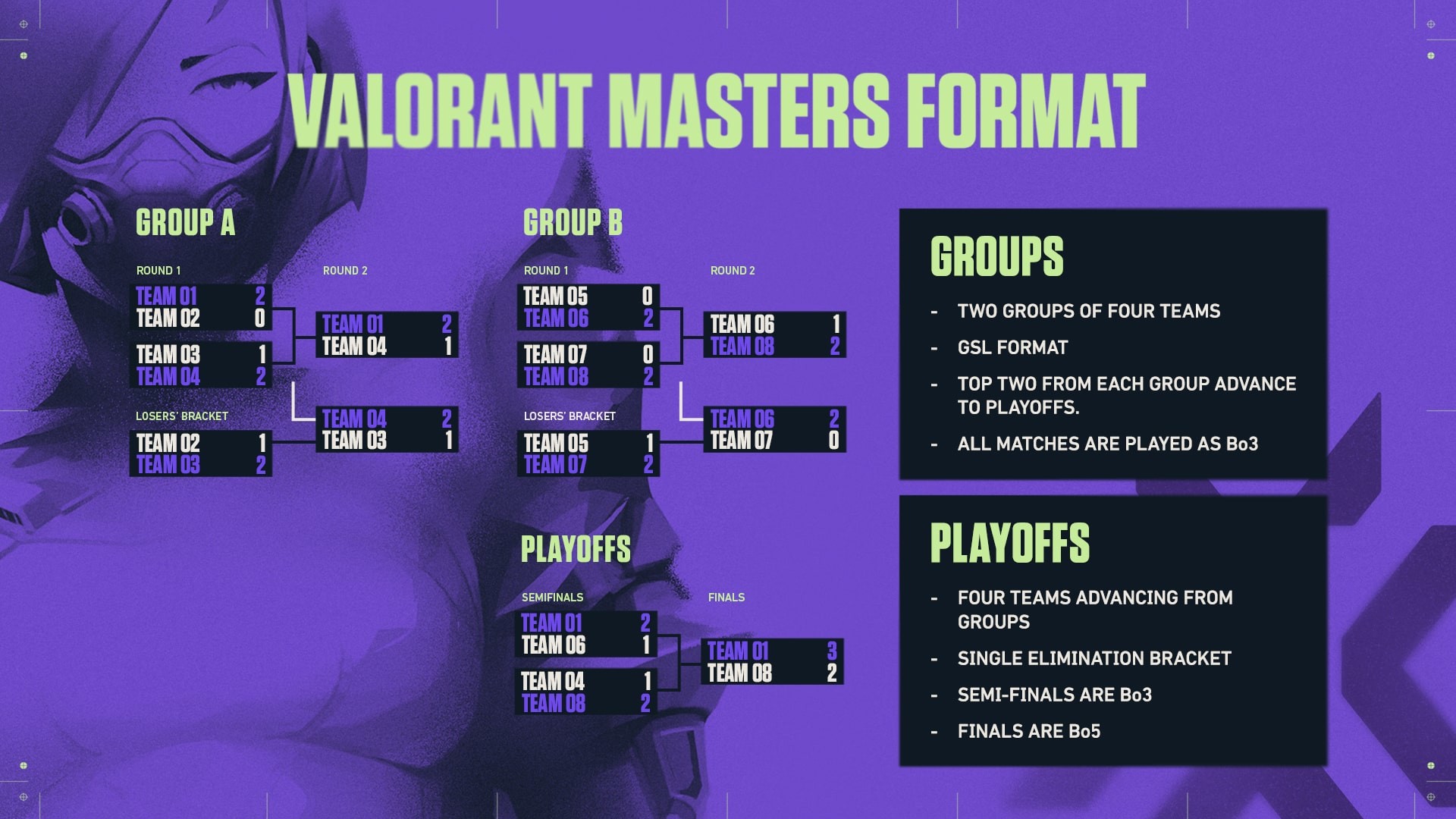 The Regional Masters start with a GSL-format group stage. After that it continues with a single-elimination bracket, culminating in a best-of-five grand final.
What's on the line?


Not only do the VCT Regional Masters have a high symbolic significance in each respective region – there will be prize money and circuit points on the line too. Amassing circuit points is one of the ways to secure a spot at VCT Champions, our grand world final at the end of the year. Collecting points early on can be crucial since it allows teams to take their first steps towards the biggest VALORANT esports event of the year.

The combined prize pool of the three Regional Masters is at $300,000 – $150,000 for EU and $75,000 each for TR and CIS.


Circuit points
| Placement | Points |
| --- | --- |
| 1st | 100 |
| 2nd | 70 |
| 3rd-4th | 45 |
| 5th-6th | 20 |
| 7th-8th | 10 |
Prize money
| Placement | EU | TR | CIS |
| --- | --- | --- | --- |
| 1st | $60,000 | $30,000 | $30,000 |
| 2nd | $30,000 | $15,000 | $15,000 |
| 3rd-4th | $15,000 | $7,500 | $7,500 |
| 5th-6th | $10,000 | $5,000 | $5,000 |
| 7th-8th | $5,000 | $2,500 | $2,500 |
How to stay updated?


To stay up to date with the latest news, updates and information on VCT EMEA, follow our social channels listed below:




I still have questions!


So you still have questions? No problem! Drop a message to our support team at any time and they will get back to you as soon as possible or check out our FAQ section.

Photo credit: Riot Games