The EMEA Challengers Playoffs is the first VCT event which features teams from EU, TR and CIS. They battle for up to €32,500 prize money and tickets for VCT Masters Reykjavík.
With the EMEA Challengers Playoffs, the most important VCT tournament so far is coming our way. In this epic battle eight teams hailing from EU, TR and CIS will determine the best of the best – and who's going to represent one of VALORANT's most competitive regions in the world at the VCT Masters Reykjavík in May.
The tournament's group stage commences this Friday and will see
the four EU representatives going up against teams from the other two territories
for the very first time in VCT history. Let's have a look at the exciting competition ahead!
| Group A | Group B |
| --- | --- |
| FunPlus Phoenix | Fnatic |
| Gambit Esports | Futbolist |
| Team Liquid | Oxygen Esports |
| BBL Esports | Guild Esports |
CIS fan favourites meet in Playoffs opener
FunPlus Phoenix may be a team that qualified over the EU Qualifier and Main Event, but they have a huge fan base in the CIS. Captain Kirill
"ANGE1"
Karasiow is considered one of the best VALORANT players in the world and has a huge following in that territory. His fellow countryman and coach Ivan
"Johnta"
Shevtsov as well as
"Shao"
Kiprsky and Dmitriy
"dimasick"
Matvienko also hail from the CIS. The international stack is going to meet the official CIS representative in the first EMEA Challengers Playoffs match: Gambit Esports.
The Russians have been dominating CIS, winning Stage 1 and Stage 2's Main Event 2. With FPX, they meet Europe's arguably most formidable squad which boasts talented players such as Shao and Pontus
"Zyppan"
Eek. The phoenixes played an overwhelming second stage too, defeating strong teams such as Team BDS and Guild Esports on their way. They can be considered the favourites in this match-up, and even for the entire Playoffs. However, as this is the first interterritorial VCT competition for Gambit and FPX, we are thrilled to see what's going to happen.
Team Liquid: Finally among the top?
Team Liquid struggled in VCT Stage 1, but came back far stronger in the second one. Finnish prodigy Elias
"Jamppi"
Olkkonen has now had more time to adjust to his new team, after joining the organisation at the end of Stage 1. On top of that, star player Adil
"ScreaM"
Benrlitom has nothing but praise for the 19-year-old Jett player. In their first match, they will play against BBL Esports from Turkey.
Standing in the shadow of Futbolist, BBL might not be the scariest opponent from TR. But Liquid still must give it their all in their first match of the tournament. Their recent battle against Fnatic showed that everything can fall apart when they catch a bad day. Also, BBL boast a lot of raw skill and fire power as well as a fairly capable captain with Semih
"LEGOO"
Selvi.
Fnatic want to continue success story
The first match of Group B features EU's Main Event 2 winner Fnatic and TR's Main Event 1 runner-up Oxygen Esports. Fnatic recently trumped Liquid 3-1 and seems to have gained a lot of momentum. Their latest additions, Nikita
"Derke"
Sirmitev and Martin
"Magnum"
Peňkov, have been doing marvellously, considering that they only joined in April.
Their opponents from Oxygen are the number two in Turkey – they lost 3-0 to Futbolist in the territorial finals of Main Event 1, albeit by only a few rounds on every map. Oxygen's line-up features Jett virtuoso Erdem
"toronto"
Sogukpinar and Sage player Mehmet
"Turko"
Özen, who are tremendously dangerous adversaries. Fnatic captain Jake
"Boaster"
Howlett and his players need to make full use of their strategic repertoire to stop Oxygen.
Guild and Futbolist test their strength
Guild has improved massively over the last weeks. Their line-up consists of five Swedish VALORANT aces who are hungry for victory. The team surrounding ex-CS:GO pro William
"draken"
Sundin has put much work into their progress and was rewarded with an appearance in the grand finals of EU's first Main Event. Although they struggled and lost 0-3 to FPX, they can still be regarded as a favourite at the EMEA Challengers Playoffs.
Amazing battle with my family today, I'm so happy for our patience and mental strength. We really did it this time. Thank you everyone for your support. We win 2-1 versus @NIPGaming. Qualified to the regional finals! #VCT pic.twitter.com/UmibLW5CPI

— Guild Sayf (@DSajoof) April 8, 2021
To survive their group, Guild need to display their best shape once more, like they did against Ninjas n Pyjamas and Alliance. Their first opponent will be the undisputable champion of Turkey, Futbolist. The winners of TR's Stage 1 haven't lost a VCT match in two months and are the team to beat from this territory. While pretty much every match in the group stage might be hard to predict, this rodeo has the potential to be the closest battle of the first two matchdays.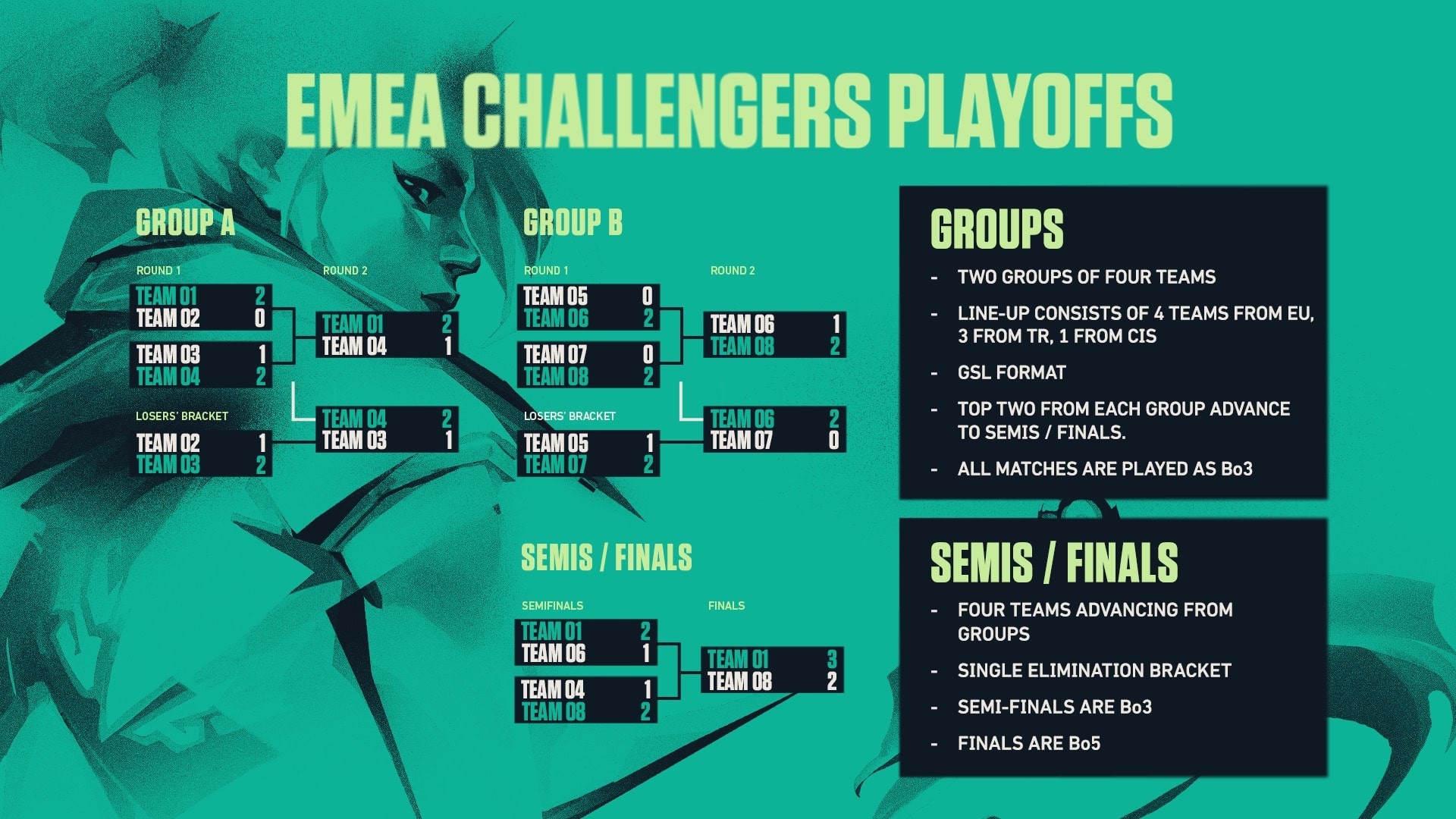 The EMEA Challengers Playoffs adapt the format from Masters 1: a GSL-format group stage and a single-elimination bracket in the semifinals and finals.
Prize pool & Circuit Points
| Placement | Prize | Points |
| --- | --- | --- |
| 1st | €32,500 | Masters Reykjavík |
| 2nd | €15,000 | Masters Reykjavík |
| 3rd-4th | €9,000 | 45 |
| 5th-6th | €6,000 | 30 |
| 7th-8th | €4,000 | 20 |
EMEA Challengers Playoffs Schedule
| Round | Broadcast start |
| --- | --- |
| 23 April: Group A + B, UB R1 (M1) | |
| 24 April: Group A + B, UB R1 (M2) | |
| 25 April: Group A + B, LB R1 | |
| 29 April: Group A + B, UB R2 | |
| 30 April: Group A + B, LB R2 | |
| 1 May: Semifinal, M 1 & 2 | |
| 2 May: Grand Final | |
Watch the streams live on Twitch in your language:
Glossary:
UB = Upper Bracket
LB = Lower Bracket
R = Round
M = Match
How to stay updated?
To stay up to date with the latest news, updates and information on VCT EMEA, follow our social channels listed below:
I can't watch the games live. Is there a way to catch the action?
For those who are busy during the match days, simply check out our VODs on YouTube and Twitch linked above. Every game and livestream will be saved on its respective channel and you can watch any series whenever you want to.
Photo credit: Riot Games