Team Liquid are our freshly crowned VCT EMEA champions and will represent the region at Masters Reykjavík. We talked to star player Adil "ScreaM" Benrlitom.
Team Liquid has done it: the team surrounding star player Adil
"ScreaM"
Benrlitom are the first ever VCT EMEA champions! When we interviewed the players in Stage 1, many pros would name him as the scariest player in the scene, although he and his team didn't make it to the EU Regional Finals. The team's development skyrocketed in Stage 2, qualifying for the EMEA Challengers Playoffs, where they dominated the field. In our interview, we talk with ScreaM about their recent progress, the EMEA Challengers Playoffs, and of course the upcoming Masters Reykjavík in Iceland where Liquid will be representing EMEA alongside Fnatic.
ScreaM, thank you so much for taking the time. You had a storied career in CS:GO and the switch to VALORANT must have been hard. After you announced your retirement from CS:GO you said: "I never actually thought about switching games because there's no game like CS for me. […] But I knew that, one day, I would have to move on". So how did becoming the best team in EMEA and even being crowned MVP feel?


I didn't expect any other game to replace CS in my heart, because it has been there since I was nine. It's been there my whole life, so it was a weird feeling, a weird decision when I left. At the same time VALORANT has so much to offer. It's an FPS as well and its mechanics are a little bit like in CS. There are still some things I can rely on. On the other hand, it's also unique and it gives me a lot motivation. That's why I decided to switch: I needed something else, something new in my life and this was the perfect opportunity for me.
It's a really great feeling. Obviously is happened just yesterday (editor's note: this interview was recorded on Monday), so we are still enjoying the feeling. I had a good career in CS, but I didn't end up like I wanted to. I think no one wants to end up like this. But at the same time I had this amazing opportunity with this new game coming up.
EMEA CHAMPIONS !!! 🏆

3-2 vs @FNATIC what a game, thanks everyone for supporting us, we grinded so much last weeks, feels amazing that it paid off! #LetsGoLiquid #RideOrDie

— Liquid ScreaM 🇲🇦 (@ScreaM_) May 2, 2021
Back in Challengers Stage 1 you didn't even manage to make it top 4 in three attempts. What flaws do you think prevented you from starting off better in the VCT?
On Liquid, we were struggling a little bit for the past months to find our style. We exchanged one player as well. It's not the easiest way, but we practise really hard. I truly believed that we had the potential to be the best team in Europe and I think we've shown that right now. Qualifying for Iceland, for the first offline event in such a long time, it's such a great feeling. I just hope we can continue on your path, it's only the beginning. We cannot lie down and rest for too long. I'm happy and at the same time I'm excited about what's coming next, to keep it up, beat everybody and dominate the scene. That's just what I want to do, I just want to win everything.
What did you improve on after the early struggles?
We were struggling to find our game style back then when we were with ec1s. There were a lot of things to fix. We still didn't have the best way to practise and we had to find our strengths. When we brought in Jamppi, it clearly got better for us, because playing with a main Operator has so much impact on the game. It gives you so much ease to get the first kill. It changed our entire game style and I'm sure Jamppi plaed a big factor in why we got so good. Obviously, we had a boot camp for three weeks in the Liquid facility, so this helped us a lot as well to fix mistakes, find new strats, and just get better overall. Everything is better, the mood, the motivation, the communication, it's definitely a thing that pushed us to the win as well.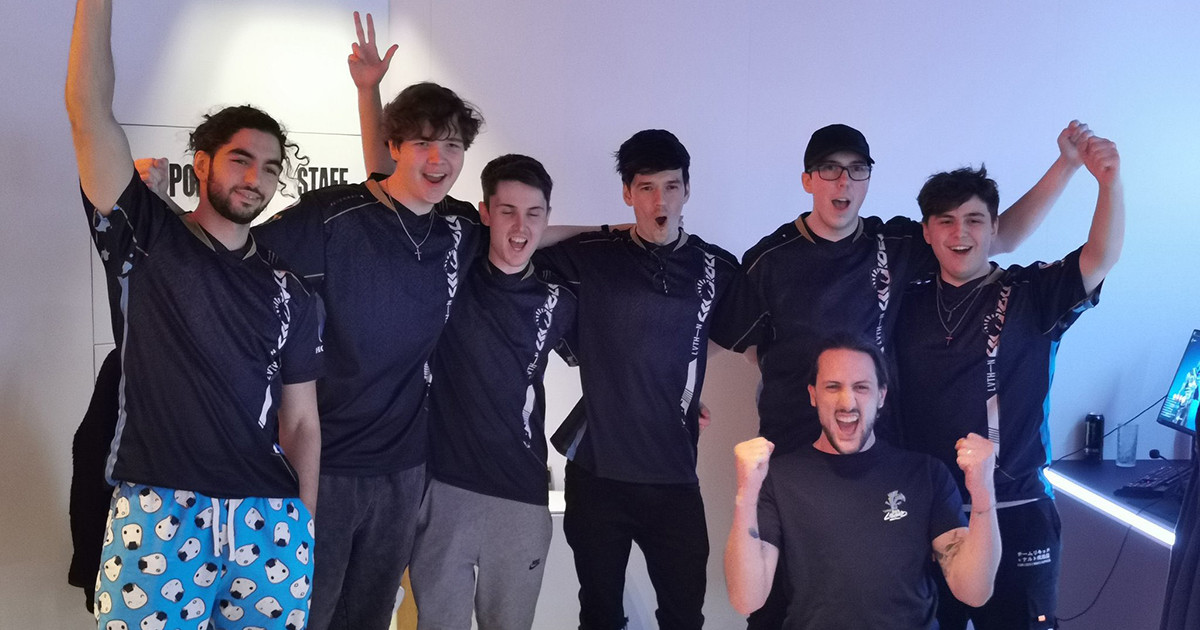 Team Liquid were visibly happy after qualifying for Masters Reykjavík. ScreaM received much praise for his stylish pants from the VALORANT community.
Photo credit: Team Liquid
What changed for you when Jamppi joined?
I was playing Jett for a couple of months before Jamppi joined. Jett is one of my favourite Agents. She is one of the Agents you can do so much stuff with and get away with it as well, as you don't get punished so much. She really fits my playstyle but when Jamppi joined I was happy to give Jett to him. It's important to have an Operator on Jett. It's so strong that I'm down to playing any agent in the game. I want to be the most flexible player possible for the team. It's been going great so far and I'm getting better at the Agents I'm playing. In the beginning you have to adapt a little bit, because of different playstyles. When you play for a couple of months and do some crazy stuff with Jett and then realise you cannot dash anymore, that's tough.
You lost 1-3 to Fnatic previously. What learnings did you get from that series that helped you in the finals?
Fnatic is a really good team. They are one of the best right now. They play VALORANT really well and very tactically. In the first game against Fnatic, we were off that day. Maybe because there was nothing to win, really, but we didn't even look back at it. We knew that was like 20% of our level. This final for the EMEA championship was different. It was an extremely important game for us to become the champions of EMEA. It means a lot. We just had more motivation compared to the first match.
Why did Jamppi go for Killjoy on Haven and Icebox?


It paid off a lot. We honestly didn't expect to beat them on Icebox, because it's our perma veto. For Iceland we are going to prepare better on every map, but for this event it was hard to fix it in just one day. And sometimes, we don't even have one day, we just talk about it on the same day and try to come up the best solution possible.
It's good to have Killjoy on Operator because you can play passive and get the peeks. Icebox, for example, is a map we didn't play much, so we just tried it out because last time against Fnatic we lost against them there. We felt we needed some changes. Our coach proposed it, we talked about it and we agreed it would help us a lot with Killjoy on Operator and me on Jett.
Historically, you have been playing Haven with two Duelits mostly. But after the opening match at the Playoffs you started playing it without Duelists and crushed OXG 13-0. How did that come about and how viable do you feel are comps without any Duelists?


You need to play the strong Agents. So that's what's going to make the best teams. You need to adapt. We just tried it out and it felt really good. That's the future of the game: you've got to play the best Agents in the game all the time. But anything can work. You can also pick five Duelists and that can work as well.
A comp without any Duelists is very good because you have so many abilities to work with. You can have a perfect defense, just like we did, and take a half 12-0. I was thinking about it a while ago because I think as defenders it's hard to play Duelists. It's quite tricky, so we had a talk. We knew our Haven was quite messy and not the strongest, so we decided to change that a couple of days before the games, and honestly also because Viper got buffed. This buff changed a lot in our mind as well and we try to abuse the game.
After the semifinals, you picked Haven against Fnatic and lost 3-13. How come?
It's simple: We always lose the first map! (laughs) That's the curse but we need to fix this. It's something of a wake-up call. After losing the first map, we got into the game for real. On the first map, not everybody was communicating well, it was a bit slow. That's something to improve as well in our team. We are going to work on it for the next tournament. We had a good chance to beat Fnatic on Haven, as it is out best map. So, it depends on the mood and how it affects the game. You have to be at 100% all the time, that's the point.
FPX are super tactical, while your team seems loose when it comes to strategy. How would you characterise your playstyle?
As a player or team you have to adapt a lot. But at the same time you need to have some tactical finesse as well, just like FPX or Fnatic. This is how you dominate the scene, you need to have a strong tactical game. At the same time, you need to have five individuals capable of adapting to any situation. If we play on LAN and lose, we don't have much time to change our comp, we have to adjust and be flexible, and be able to play any Agent at any time. That's what makes VALORANT so difficult and unique.
Looking at Masters 2: have you practised anything you didn't show yet?
Sure, there are things we try to hide. Like when we qualified and played the Main Event final against Fnatic, we tried to hide a couple of our things, but at the same time we try to win so it's a tricky situation. But we're working on new stuff for Iceland and we've got a little bit of time now. What we've shown at these events might not be what we are going to use.
How strong do you think the other regions are?


NA is a little bit better than other regions, but at the same time they play a perky style. This means they play a lot of Duelists, they peek a lot, so tactical-wise I think we are going to be better at this event. Then you have Korea, who are really good in terms of tactics. That might be a little bit scarier than NA if I'm honest. But we don't know what to expect so we prepare for everything, for every team. It's gonna be amazing, man!
They play a very different VALORANT from what we play in Europe. It's going to be very interesting, but it will also be extremely difficult to play against them because they might do some stuff we are not used to and we might do things they don't know about. So I don't know. It's going to be a very unique experience. It will be the first time, so I'm happy we are in this tournament and will experience this. But I'm not scared of any region from what I've seen.
You say you are not afraid of any one region. But which region do you respect the most?
NA is probably slightly above the other regions right now. A team like Sentinels are going to be tough opponents and I can't wait to play against them. I truly believe we can beat them.
How do you prepare for these teams?
Our coach analyses these teams a lot and prepares for the games. We are waiting for the format and see who we are going to play and then we'll take every team one by one, try to understand how they play and counter them the best way possible. That's how VALORANT works, you have to prepare for every game. Every team is so unique and plays differently, even within Europe. So in every region, it's so different.
You have played against people from all around the world during your CS:GO career. Do you expect the regions' playstyles to translate from CS:GO to VALORANT, or is it too different?
Yes, I think so. In general, Asian teams have a great mind for the game. They have a better strategic understanding than Europe in other games. Maybe not in CS, but games like League of Legends. You can feel that in VALORANT as well, they approach the game differently. Same with NA or the Turkish teams. They play more of a 'cowboy' style with high individual skill and a lot of individual plays. It's still the beginning and I haven't analysed so much. I've been focusing on the EU teams so far, but in the next couple of weeks we are going to analyse them more thoroughly and try to understand every region.
How to stay updated?
To stay up to date with the latest news, updates and information on VCT EMEA, follow our social channels listed below:
I still have questions!
Still have questions? No problem! Drop a
message to our support team
at any time and they will get back to you as soon as possible or check out
our FAQ section
.
Photo credit: Riot Games