What's the format of VCT EMEA Stage 3, where to watch the games and how does the seeding work for the final Masters 3 in Berlin? We've gathered all the info in one place!
Stage 3 format brings double elimination to VCT EMEA
The VCT EMEA will start its last phase before it leads to the epic climax at VCT Champions in December. Most participants of the Masters and Challengers have already collected some valuable VCT circuit points. Stage 3, also featuring much requested double elimination, will begin on 28 June and end in September with Masters 3. This finale will be held as another offline event in Berlin, Germany, where the top 4 EMEA teams fight face-to-face against teams from around the world.
The teams will compete for VCT circuit points which will earn them a ticket to Champions. There, one team will come out ahead as the best one in the world for 2021. Before that, EMEA will hold another exciting event with teams from TR, CIS, and EU to determine their representatives at Masters Berlin. After that, teams can only qualify through the Last Chance Qualifier for the world championship. Here is everything you need to know about the last Stage of the VCT.
What's the format of Stage 3?
After Stage 2 came to an end in May with Masters 2 in Reykjavík, Stage 3 will follow a similar format but with some notable changes. Just like the second stage, the upcoming one will end with a global LAN event. Masters 3, which will bring Stage 3 to an end, will take place in Germany's capital, Berlin. But let's start with the format's basics: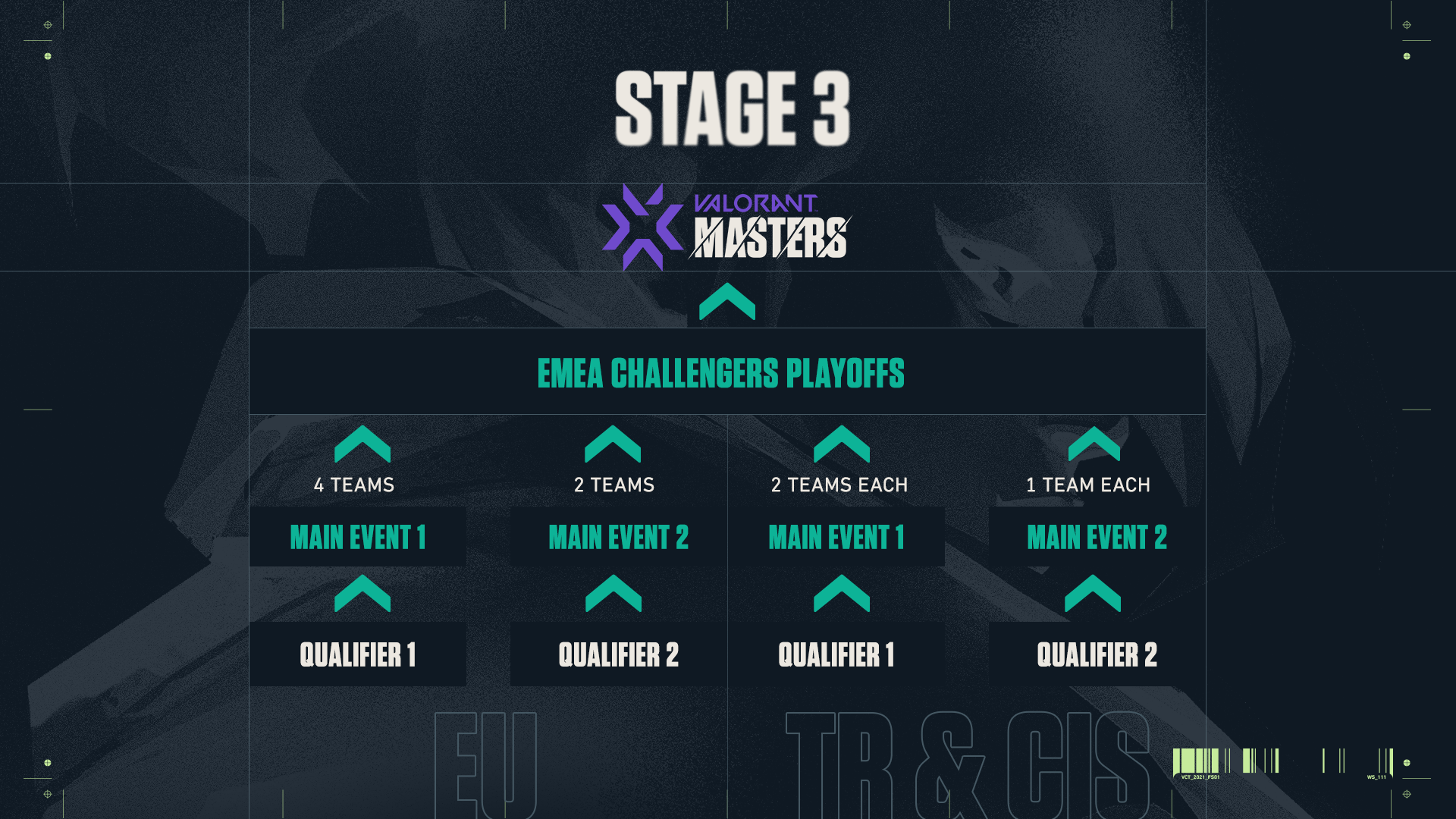 Teams qualify over Open and Closed Qualifiers for the Main Events of each territory. The winners advance to the EMEA Challengers Playoffs. The finalists of the Playoffs attend VCT Masters Berlin.
How does the seeding work for the EMEA Challengers Playoffs?
As mentioned in the section above, the best teams of the two Main Events will advance to the EMEA Challengers Playoffs. The three territories each send in their best candidates with the following seeding:
Main Event 1:
Top 4 EU, top 2 TR & top 2 CIS advance to the EMEA Challengers Playoffs.
Main Event 2:
Top 2 EU, top 1 TR & top 1 CIS advance to the EMEA Challengers Playoffs.
Why are there different slot distributions for the three territories?
The slot distribution for EMEA Challengers Playoffs in Stage 3 has been adjusted to reflect the results and performances of each territory during Stage 2. With regional and international competition data becoming more available, we will continue to use this in addition to other metrics to inform future changes in seeding.
What's the schedule for Stage 3?
So many exciting matches ahead, but when exactly do they take place? The first Qualifiers kick off on 28 June, so it's nearly showtime! For an overview on each matchday, head over to our schedule and find out when the broadcast is starting on which day. The schedule can be found under the Challengers option in the navigation,
or you can click here
.
What's the entire timeline for the 2021 VCT?
Now that you know the schedule for Stage 3, let's take a look at the remaining VCT timeline.
Stage 3 kicks off in June, starting with the first of two Qualifier rounds. Two Main Events and the Playoffs will then lead to one last Masters 3 to wrap up the third Stage of the VALORANT Champions Tour in September.
In October, teams will have their final opportunity to earn their spot in VCT Champions via the Last Chance Qualifier.
Once the strongest participants from all over the globe have been determined after Stage 3 and the Last Chance Qualifier, the top teams will prepare for the long-awaited climax. The VCT Champions takes place in December and is the final arena from which the 2021 VCT world champions will emerge victorious.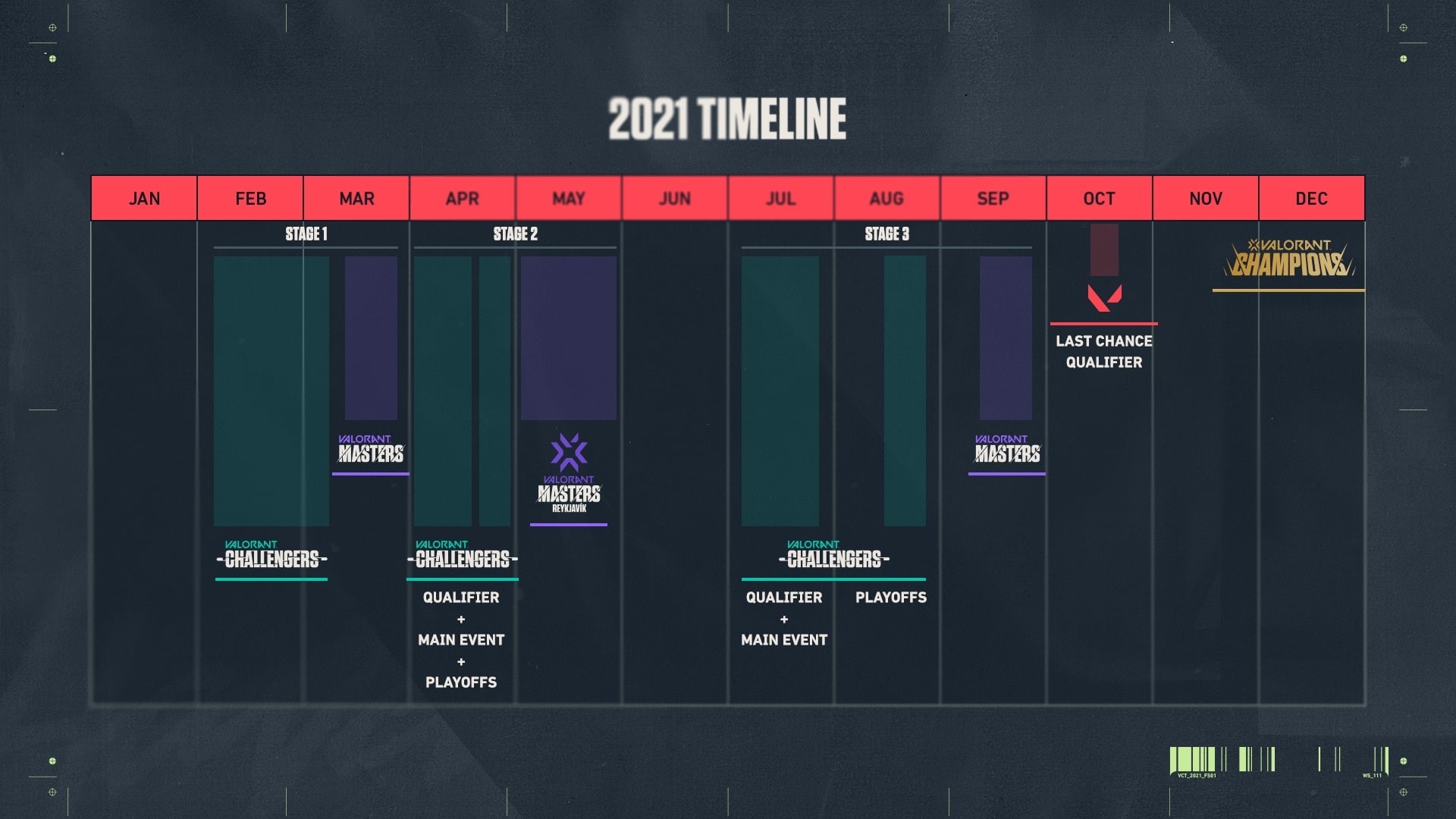 In Stage 3, we'll again have two Qualifiers per region, that lead to one Main Event for each territory. The EMEA Challengers Playoffs determine the participants for VCT Masters 3.
What does EMEA region mean?
The EMEA region is one competitive area that is made up of three territories which are EU, TR and CIS. When competing in the Global VCT events, Masters and Champions, teams will be collectively representing the EMEA region.
Participants from the following countries are eligible to participate: Europe, Turkey, Russia, CIS and MENA. Participants from the following countries are eligible to take part: Afghanistan, Albania, Algeria, Andorra, Armenia, Austria, Azerbaijan, Bahrain, Bangladesh, Belarus, Belgium, Bosnia And Herzegovina, Bulgaria, Croatia, Cyprus, Czech Republic, Denmark, Djibouti, Egypt, Estonia, Finland, France, Georgia, Germany, Greece, Hungary, Iceland, India, Iraq, Ireland, Israel, Italy, Jordan, Kazakhstan, Kosovo, Kuwait, Kyrgyzstan, Latvia, Lebanon, Libya, Liechtenstein, Lithuania, Luxembourg, Macedonia, Malta, Mauritania, Moldova, Monaco, Montenegro, Morocco, Nepal And Maldives, Netherlands, Norway, Oman, Pakistan, Palestine(Un Observer State), Poland, Portugal, Qatar, Romania, Russia, San Marino, Saudi Arabia, Serbia, Slovakia, Slovenia, Somalia, Spain, Sri Lanka, Sudan, Sweden, Switzerland, Syria, Tajikistan, Tunisia, Turkey, Turkmenistan, Ukraine, United Arab Emirates, United Kingdom (UK), Uzbekistan, Vatican City (Holysee), Western Sahara (Sahrawi Arab Democratic Republic), Yemen.
What is the prize money and how are the VCT points distributed?
Prize money
While the Main Events will award the same prize money, the distribution for the EMEA Challengers Playoffs will be adjusted due to the fact that there will be twelve teams competing this time. Below is a breakdown of the prizes awarded to the teams participating:
Challengers Main Event 1&2 EU/TR/CIS
| Placement | EU | TR | CIS |
| --- | --- | --- | --- |
| 1st | €15,000 | €8,000 | €8,000 |
| 2nd | €10,000 | €5,000 | €5,000 |
| 3rd | €6,000 | €3,000 | €3,000 |
| 4th | €4,000 | €2,000 | €2,000 |
EMEA Challengers Playoffs
| Placement | Prize |
| --- | --- |
| 1st | €32,500 |
| 2nd | €15,500 |
| 3rd | €10,000 |
| 4th | €7,500 |
| 5th-6th | €4,500 |
| 7th-8th | €2,500 |
| 9th-12th | €1,500 |
The VCT Points System
Stay tuned for the reworked VCT points system! We'll release more soon.
What patch will the third Stage be played on?
Patch 3.0 brings a new Episode to the game and will be used at Week 1 Open Qualifiers and the Main Event 1. The new Agent KAY/O will be disabled for both of these events. The patch for Stage 3 Week 2 is still to be decided.
Where can I watch the games?
If you aren't playing yourself and simply want to watch some matches, grab your popcorn and tune in to one of our streams. We broadcast in English and nine other languages, the full list of which can be found below.
All Main Event and Playoffs matches will be broadcast. Players and teams competing may stream their POV in the Qualifier phase, starting on 28 June. Additionally, there will be partner streams.
Missed a game? Don't worry! All broadcasts are available as VODs on our Twitch and YouTube channels. See below for the full list of channels and languages available:
The official VCT EMEA streams are:TwitchYouTube
Where can I find the results?
Head to
our League overview
to stay up to date with the current standings as well as which teams have progressed to the next stage.
Can I join the tournament? And how do I sign up?
There are a few rules and requirements to be aware of before you join the tournament. Please read all rules carefully before signing up and remember that the VALORANT Tournament client needs to be installed throughout the tournament.
You can find
all rules in detail in our rulebook
which can found under the Challengers section in the navigation, or
click here
.
Now that you've read through all the rules and are eager to take your shot, it's time to sign up for one of the upcoming Qualifiers. No, you do not need a professional organisation to take part, the goal is to look for the best of the best teams and players out there.
Make sure to
check out our signup guide
which you can find under the Support section of the navigation, or
by clicking here
.
Here are the dates for the Qualifier sign-ups:
Qualifier 1:
18 June at 15:00 CEST until 26 June at 23:59 local time
Qualifier 2:
12 July at 12:00 CEST until 18 July at 23:59 local time
As soon as the sign-ups open, you can
head over to the Leagues overview
to sign up for Stage 3.
FAQ about Stage 3:
Why is Challenger Finals not an offline event where every team can play with the same ping?
The VCT strives to create the best experience for world-class competitive VALORANT for all our fans, players and teams around the globe to enjoy, but without compromise, the health and safety of everyone is our top priority. We are constantly observing and evaluating health and safety measures globally to ensure that our teams, players, and crew have the safest environment possible to perform at their best. We will continue to adhere to local government advice and restrictions. At this moment, tournament organisers have decided to continue with the VCT EMEA Challengers Stage 3 as an online only event.
Which team gets to choose which server to play on?
Choosing the server is the responsibility of the tournament officials, not the teams, and will be based on which server will provide the optimal and fairest experience for participating teams.
How can I stay updated?
To stay up to date with the latest news, updates and information on VCT EMEA, follow our social channels listed below:
I still have questions!
Still have questions? No problem! Drop a
message to our support team
at any time and they will get back to you as soon as possible or check out
our FAQ section
.
Photo credit: Riot Games