Who will play when, and where to watch? Here is all information about the upcoming EMEA Challengers Playoffs!
VCT Stage 3 is soon coming to an end. But before we can crown another champion at Masters Berlin in September, we need to determine EMEA's representatives for what will become VALORANT's most stacked event yet. Besides a ticket to Germany's capital, €85,500 prize money is on the line.
Who will play at the EMEA Challengers Playoffs?
The event will feature twelve teams from CIS, EU, and TR. EU will be represented by six teams, whereas CIS and TR will send three each. All teams qualified through their regional Main Events 1 & 2, and the line-up looks as follows:
What's the format of the VCT Stage 3 EMEA Challengers Playoffs?
The EMEA Challengers Playoffs of Stage 3 will feature a double-elimination format with twelve teams participating. The teams will be seeded depending on their results in the Main Events of their regions. While EU's #1 & #2 and the #1 of TR and CIS respectively will begin their journey in Upper Bracket Round 2, the other eight teams will play an opening round to determine whether they continue their jouney in the Lower or Upper Bracket. Except for the Lower Bracket Final and the Grand Final, all matches will be held in a best-of-three format. The two exceptions will be played as best-of-five series.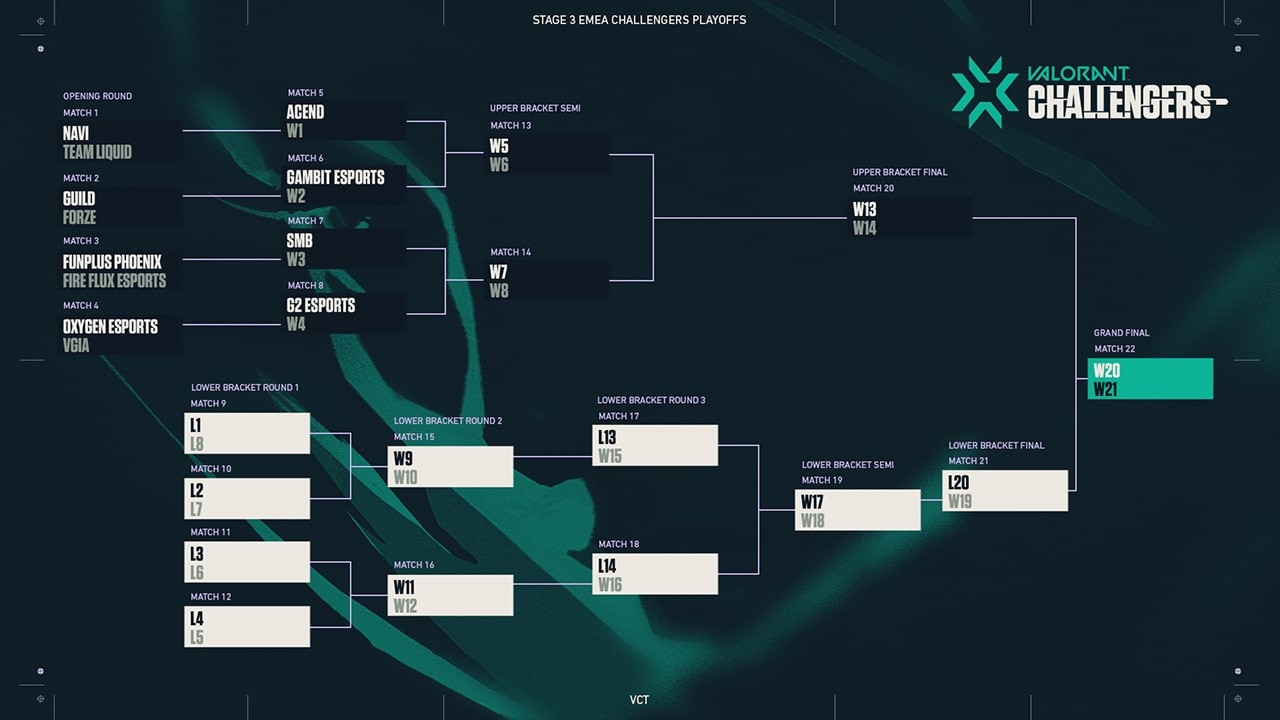 Schedule of the EMEA Challengers Playoffs
What is the prize money and how are the VCT points distributed?
Prize money and VCT points will be adjusted since twelve teams will be competing rather than eight like last time. Below is a breakdown of the prizes awarded to the teams participating. Additionally, the top 4 teams will qualify for Masters Berlin, which will not only wrap up Stage 3 but VCT's first regular season.
| Placement | Prize | Points |
| --- | --- | --- |
| 1st | €32,500 | qualifies for M3 |
| 2nd | €15,500 | qualifies for M3 |
| 3rd | €10,000 | qualifies for M3 |
| 4th | €7,500 | qualifies for M3 |
| 5th-6th | €4,500 | 50 |
| 7th-8th | €2,500 | 40 |
| 9th-12th | €1,500 | 30 |
What patch will the EMEA Challengers Playoffs be played on?
The EMEA Challengers Playoffs will be played on Patch 3.02. As was already the case at Main Event 2, KAY/O will be available for this tournament.
Where can I watch the games?
If you aren't playing yourself and simply want to watch some matches, grab your popcorn and tune in to one of our streams. We broadcast in English and ten other languages, the full list of which can be found below.
Missed a game? Don't worry! All broadcasts are available as VODs on our Twitch and YouTube channels. See below for the full list of channels and languages available:
The official VCT EMEA streams are:TwitchYouTube
Who will be the talent for the tournament?
The EMEA Challengers Playoffs will be presented by VALORANT's finest talent in EU, TR, and CIS. Additionally, EU's host and analyst desk will move offline to the beautiful VCT studios, where they will cover the event for you on-site!
EU talent
On-site hosts and analysts:
Yinsu Collins

Harry "JustHarry" Russel

Ghassan "MiloshTheMedic" Finge

Jakub "Lothar" Szygulski

Vincent "Zescht" Talmon-Gros

Beatriz "Kaquka" Alonso

Ryan "RyanCentral" Horton
Additional talent:
Mitch "Mitchman" McBride

Tom "Tombizz" Bissmire

Lauren "Pansy" Scott

Mike "Hypoc" Robins

John Allen

Georgina "Geo" Collins

Ghassan "MiloshTheMedic" Finge

Matt "Twiggy" Twigg
TR talent
Özgür "Root" Alagül

Berke "Vlad" Kantürk

Alican "Karahan" Karahan

Eren "Hetze" Akın

Anıl Can "GTRST" Başaran

Sencer "sencerEZ" Başcın

Can "Scarlet" Çaldıran

Oğuz "Noeldayı" Avcı

Ebrar "Rowincy" Gül
CIS talent
Andrey "Anishared" Keretsman

Pavel "Rillion" Shabalin

Igor "Helix" Mescherykov

Vladislav "Rim" Rimskyi

German "Gromjkee" Gromov

Dmitry "Siberian" Kotsarev

Dmitry "Cracken" Knyazkin

Daria "Eiriteil" Morozova

Daniil "Jay" Rogachev

Nik "Dracon" Abdreev
Will there be watch parties?
Yes! In each region you can enjoy the EMEA Challengers Playoffs together with a few select streamers who will celebrate the event with watch parties. Find the list for all three regions below!
EU watch parties
TR watch parties
CIS watch parties
Where can I find the results?
Head the
our coverage page for the Playoffs
to stay up to date with the current progress of the tournament.


For all information on the Qualifiers, Main Events and EMEA Challengers Playoffs, head over to the "Challengers" point in the navigation and select the season you want to learn more about.
FAQ about Stage 3 & the EMEA Challengers Playoffs:
What is the EMEA region?
EMEA is a joint competitive region that is made up of three territories which are EU, TR and CIS. When competing in the Global VCT events, Masters and Champions, teams will be collectively representing the EMEA region.
Participants from the following regions are eligible to participate: Europe, Turkey, Russia, CIS and MENA. Participants from the following countries are eligible to take part: Afghanistan, Albania, Algeria, Andorra, Armenia, Austria, Azerbaijan, Bahrain, Bangladesh, Belarus, Belgium, Bosnia And Herzegovina, Bulgaria, Croatia, Cyprus, Czech Republic, Denmark, Djibouti, Egypt, Estonia, Finland, France, Georgia, Germany, Greece, Hungary, Iceland, India, Iraq, Ireland, Israel, Italy, Jordan, Kazakhstan, Kosovo, Kuwait, Kyrgyzstan, Latvia, Lebanon, Libya, Liechtenstein, Lithuania, Luxembourg, Macedonia, Malta, Mauritania, Moldova, Monaco, Montenegro, Morocco, Nepal And Maldives, Netherlands, Norway, Oman, Pakistan, Palestine(Un Observer State), Poland, Portugal, Qatar, Romania, Russia, San Marino, Saudi Arabia, Serbia, Slovakia, Slovenia, Somalia, Spain, Sri Lanka, Sudan, Sweden, Switzerland, Syria, Tajikistan, Tunisia, Turkey, Turkmenistan, Ukraine, United Arab Emirates, United Kingdom (UK), Uzbekistan, Vatican City (Holysee), Western Sahara (Sahrawi Arab Democratic Republic), Yemen.
How does the seeding work for the EMEA Challengers Playoffs?
As mentioned in the section above, the best teams of the two Main Events will advance to the EMEA Challengers Playoffs. The three territories each send in their best candidates with the following seeding:
Main Event 1:
Top 4 EU, top 2 TR & top 2 CIS advance to the EMEA Challengers Playoffs.
Main Event 2:
Top 2 EU, top 1 TR & top 1 CIS advance to the EMEA Challengers Playoffs.
EU's top 2 teams from Main Event 1 as well as the winners of TR's and CIS' Main Event 1 will be seeded in Upper Bracket Round 2, where they'll wait for the winners of Round 1. The other eight teams will play in Upper Bracket Round 1. In Round 1, no teams from the same region will face each other.
Why are there different slot distributions for the three regions?
The slot distribution for EMEA Challengers Playoffs in Stage 3 has been adjusted to reflect the results and performances of each region during Stage 2. With regional and international competition data becoming more available, we will continue to use this in addition to other metrics to inform future changes in seeding.
Why are the EMEA Challengers Finals not an offline event where every team can play with the same ping?
VCT strives to create the best experience for world-class competitive VALORANT for all our fans, players and teams around the globe to enjoy, but without compromise, the health and safety of everyone is our top priority. We are constantly observing and evaluating health and safety measures globally to ensure that our teams, players, and crew have the safest environment possible to perform at their best. We will continue to adhere to local government advice and restrictions. At this moment, tournament organisers have decided to continue with the VCT EMEA Challengers Stage 3 as an online only event.
Which team gets to choose which server to play on?
Choosing the server is the responsibility of the tournament officials, not the teams, and will be based on which server will provide the optimal and fairest experience for participating teams.
How can I stay updated?
To stay up to date with the latest news, updates and information on VCT EMEA, follow our social channels listed below:
I still have questions!
Still have questions? No problem! Drop a
message to our support team
at any time and they will get back to you as soon as possible or check out
our FAQ section
.
Photo credit: Riot Games