The EMEA Challengers Playoffs feature the twelve best teams from EU, TR, and CIS. Which four teams will represent the region at Masters Berlin?
After weeks of hard work and tough competition, EMEA's twelve best teams will compete for one of the region's four slots at Masters Berlin. By virtue of the expansion from eight to twelve teams, the Stage 3 EMEA Challengers Playoffs is set to be the most competitive tournament the EU, TR and CIS regions have seen so far in this VCT season.
€85,500 in prize money are on the line. While those teams that fail to qualify for Berlin will receive a small number of circuit points, the top 4 in this event will take on the global elite in September – the winner of Masters 3 will claim a direct invite to VALORANT Champions, the first official world championship held for Riot's FPS hit. So, without further ado, let's take a look at the field, and assess the chances of the EU representatives at the EMEA Challengers Playoffs.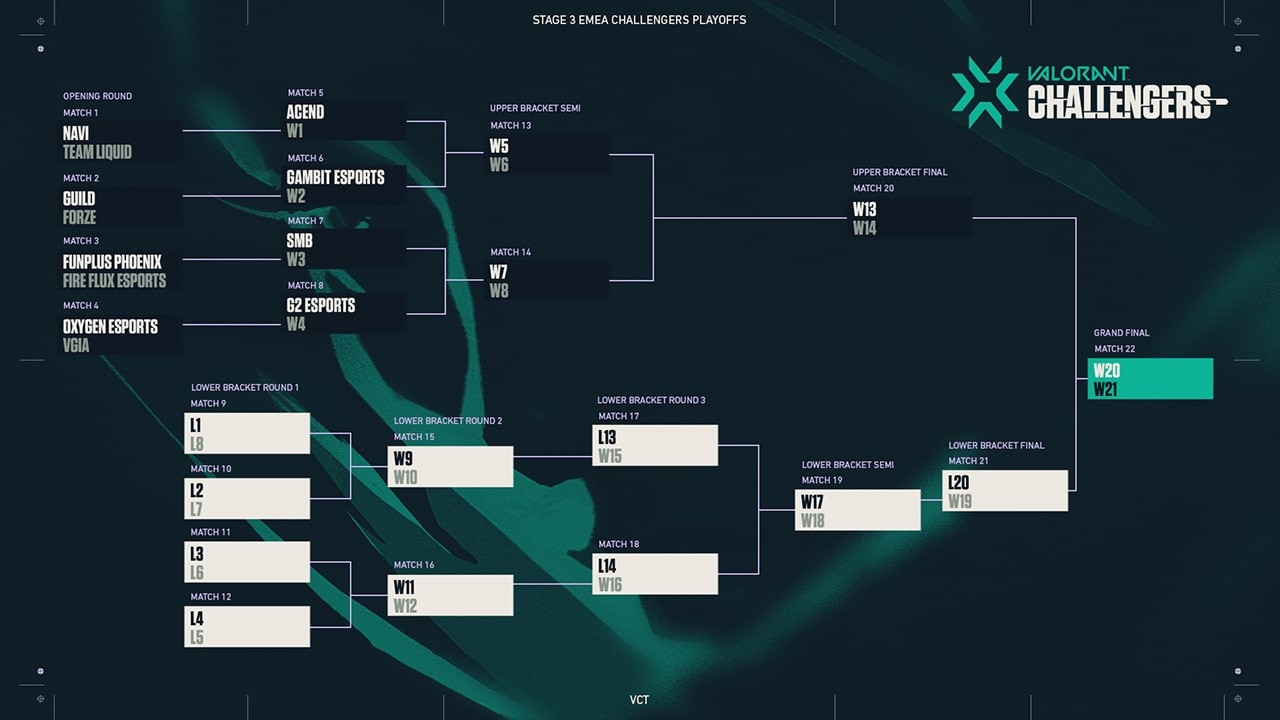 Who is the favourite again?
Picking favourites – let alone just a single one – has been notoriously difficult in VCT EMEA so far. We've seen plenty of upsets, supposedly stronger teams slip against underdogs, and thrilling storylines unfold. TR's powerhouse Futbolist and Stage 2 runner-up
Fnatic
didn't even make the cut this time, while EU's Stage 1 winners
Acend
staged an impressive comeback after struggling in Stage 2. At the same time we have teams that have only recently gained more attention, such as favourite-killer
Giants Gaming
qualifying for the Playoffs. How is one supposed to predict a favourite here?
Among the three regions, EU holds the most spots at the Playoffs: half of the twelve seeds went to Europe. Thus, there are plenty of opportunities for well-established teams to earn one of the slots. Indeed, there are some regular Playoff participants among EU's representatives.
Team Liquid
,
Guild Esports
and
FunPlus Phoenix
all have also participated in the last EMEA Challengers Playoffs.
In addition to that, Guild and FPX also participated in the regionally restricted Masters 1, apart from the last two Playoffs. This makes them the most consistent squads in the EU region, attending every single final event on a regional scale. Across all three subregions,
Oxygen Esports
and
Gambit Esports
have achieved the same feat. The latter have been especially impressive, winning every single competition in the CIS.
Recovering champions
There are three teams among EU's representative which have already notable titles under their belts. Liquid (champions of EMEA Stage 2),
G2 Esports
(First Strike winners), and
Acend
(Masters 1 EU winners) all have one more thing in common apart from their trophies: they all struggled at some point in VCT, giving fans and their opponents reasons to doubt their status as favourites.
G2 entered VCT as probably the most favoured organisation in Stage 1, but failed to make an impression on the Tour until this season. Since they switched out four positions on their roster, the team has completely transformed. Oscar '
mixwell
' Cañellas is the only player from the old roster to remain with G2. In the new line-up, the Spaniard assumes an entirely different role. Instead of flashy solo action, mixwell creates opportunities for his teammates and displays much more cooperative plays these days. G2's reward for adjusting their roster was second place at Stage 3 Main Event 1, where they were defeated 1-3 by Acend in the finals.
Speaking of Acend: after winning Stage 1 in Europe, the squad failed to back up their success in Stage 2. The time in between the Stages 2 and 3 seemed to have done them well, as they eliminated strong opponents left and right. Both teams are certainly among the strongest competitors these Playoffs.
Of course one must not forget Liquid here. The line-up surrounding ace player Adil '
ScreaM
' Benrlitom won EMEA's Stage 2, placed fourth in Reykjavík, and recovered from a poor start in Stage 3. They will meet
Natus Vincere
in Round 1, and, if they should win, Acend in Round 2. The way ahead for Liquid is not an easy one, but this applies to almost any team in this tournament.
How good is Giants Gaming really?
Alliance
,
Team Vitality
,
Fnatic
: the list of teams
Giants Gaming
beat recently is impressive. Although they lost to Liquid in the finals of Main Event 2, they have quickly developed into a dark horse. The EMEA Challengers Playoffs will put the prodigies to their next real test: are they good enough for Berlin?
In Round 1, they are to meet Oxygen, Turkey's most consistent VALORANT team. While Oxygen have been tested in interregional battles before, this is a new stage for the Giants, and adapting might turn out to be difficult. On the other hand, taking on teams with bigger names hasn't been a problem for them lately, on the contrary, it's the supposedly more experienced teams that need to be afraid.
SMB and Gambit: Teams to look out for
If you haven't followed the VCT in TR and CIS, you may not be acquainted with the teams to watch from these regions.
SuperMassive Blaze
were the first team from TR to qualify for the Playoffs. After losing to Oxygen in Main Event 1, they managed a mind-boggling run through the Lower Bracket, in which they first eliminated Futbolist and then Oxygen in the finals. The team seems to have a lot of comeback potential, something which comes in handy playing a double-elimination format.
Gambit Esports are the gold standard in CIS' VCT scene. The team of captain Igor '
Redgar
' Vlasov qualified with ease, maintaining their dominance in Stage 3. If the last Playoffs are any indicator, it's not too bold to state that Gambit are among the top contenders. After all, they placed fourth last time and it required an impeccable Fnatic to stop them. This time, they thirst for more.
Prize pool at the EMEA Challengers Playoffs
| Placement | Prize | Points |
| --- | --- | --- |
| 1st | €32,500 | qualifies for M3 |
| 2nd | €15,500 | qualifies for M3 |
| 3rd | €10,000 | qualifies for M3 |
| 4th | €7,500 | qualifies for M3 |
| 5th-6th | €4,500 | 50 |
| 7th-8th | €2,500 | 40 |
| 9th-12th | €1,500 | 30 |
How can I stay updated?
To stay up to date with the latest news on VCT EMEA, follow our social channels listed below:
Where can I catch the action?
Ongoing matches are broadcast directly on the official VCT channels. Also, there's no need to worry if you are busy during match times: Just tune in to the VODs uploaded to either YouTube or Twitch whenever you want to.
VALORANT Champions Tour on Twitch
VALORANT Champions Tour on YouTube
Image credit: Riot Games