Schedule, participating teams and tournament format - get all the details about the upcoming Masters Berlin tournament!
Masters Berlin is right around the corner! More than 2,200 teams from around the world fought for the 16 spots at the tournament. From September 10-19 qualified teams will compete for the Masters Berlin trophy and a direct invitation to VALORANT Champions!
Berlin is the third Masters event of the 2021 VALORANT Champions Tour and represents the last opportunity for teams to earn Circuit Points that will count towards qualification for Champions, the end-of-year VALORANT World Final. In addition to earning Circuit Points, the victorious team at Masters Berlin will secure a direct invitation to Champions, earning their region an additional slot at the tournament.
Who qualified for Masters Berlin?
Masters Berlin will be the largest international tournament to-date for VALORANT. Each of the seven participating regions was able to determine a set number of the 16 total teams.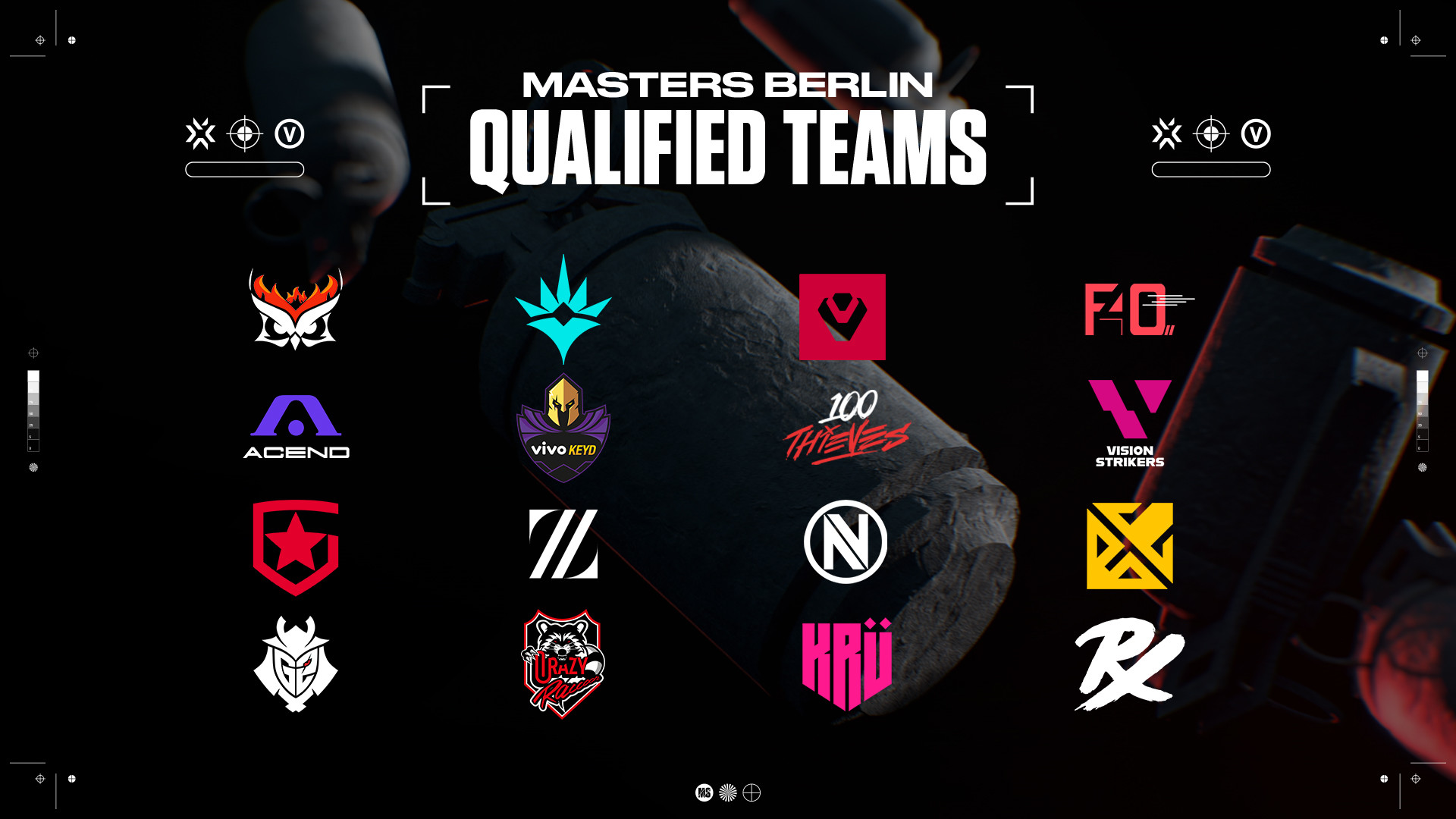 These 16 teams will fight against each other at Masters 3.
EMEA - 4 teamsNorth America - 3 teamsJapan - 2 teams


Seed #1: ZETA DIVISION

Seed #2: Crazy Raccoon

LATAM - 1 teamBrazil - 2 teams


Seed #1: Vivo Keyd

Seed #2: Havan Liberty

Korea - 2 teams


Seed #1: Vision Strikers

Seed #2: F4Q

SEA - 2 teams


Seed #1: Bren Esports

Seed #2: Paper Rex

What's the tournament's format?
The tournament will consist of GSL style group play, followed by an eight team single elimination bracket. Teams were first sorted into four draw pools based on a combination of their respective final placements at the Challenger events and their regional strength.
Pool 1: NA #1, EMEA #1, KR #1, BR #1

Pool 2: NA #2, EMEA #2, LATAM #1, SEA #1

Pool 3: JP #1, BR #2, KR #2, EMEA #3

Pool 4: NA #3, SEA #2, JP #2, EMEA #4
Next, each team in a pool will be randomly drawn into one of the four groups (Groups A-D). If at any point a team is drawn into a group which already has a team from their region, then they get placed into the next alphabetically sequential group. The only exception to this are teams from EMEA, which as a result of having the most representatives at the tournament, can have two teams drawn into a single group.
During the Group Stage, teams will compete through a four team, double elimination bracket to identify two winners from each group. In the first round of each group, teams from Pool 1 will face teams from Pool 4 and teams from Pool 2 will face teams from Pool 3.
After the conclusion of the fourth day of matches, a random draw will seed the Knockout Stage. The four teams who will have advanced out of their group in 1st place will be randomly assigned a yet-to-be-determined 2nd place team from a different group. The teams then will play through an eight team single elimination bracket, with the first round seeing teams who placed 1st play against teams who placed 2nd.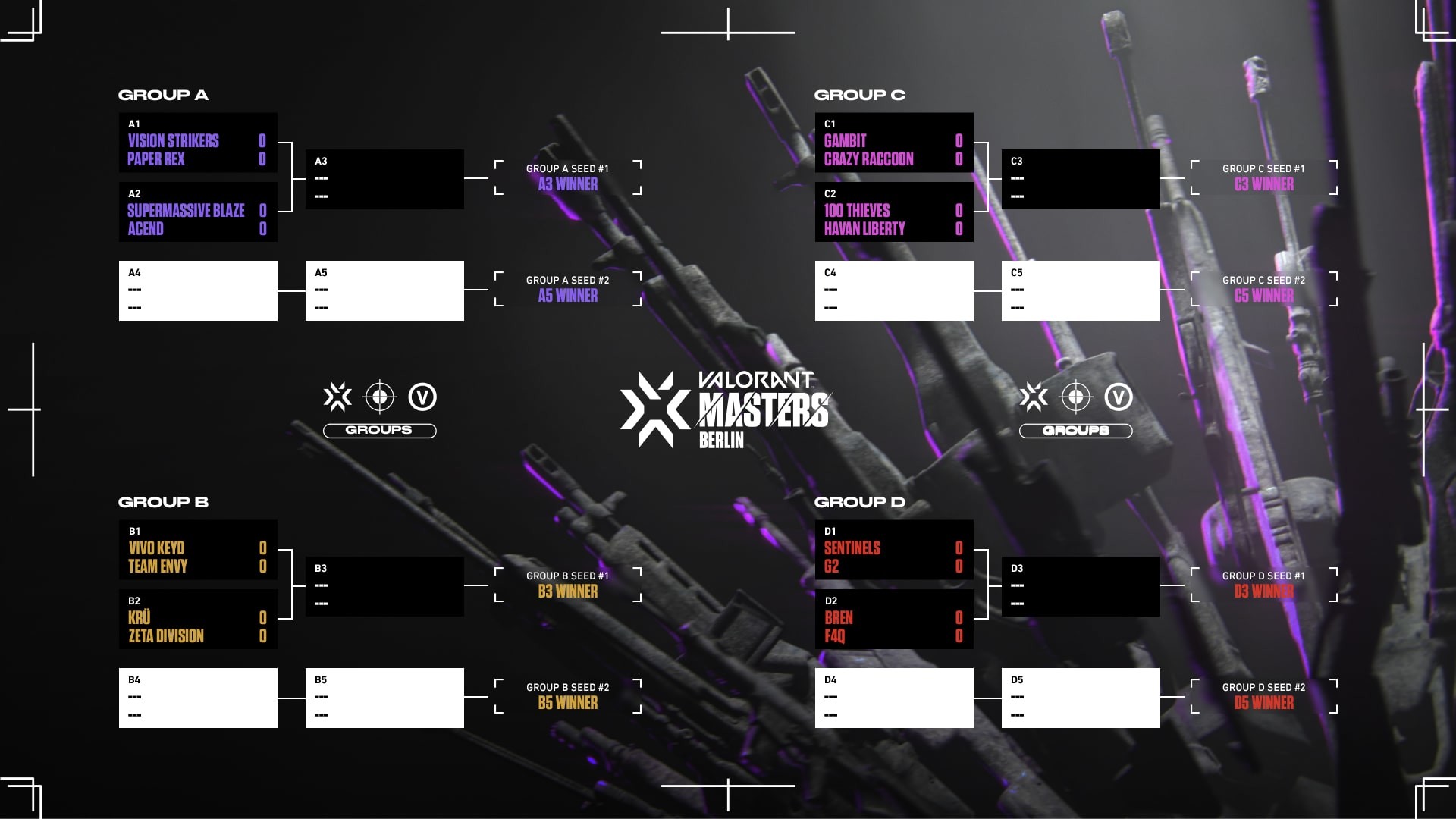 These are the four groups at Masters Berlin. Two teams per group will advance to the single elimination bracket.
What will be on the line?
| Placement | Prize money | Circuit Points |
| --- | --- | --- |
| 1st | $225,000 | Qualified for Champions |
| 2nd | $125,000 | 375 |
| 3rd-4th | $85,000 | 325 |
| 5th-8th | $25,000 | 275 |
| 9th-12th | $10,000 | 225 |
| 13th-16th | $10,000 | 175 |
Where and when will Masters 3 happen?
The epic climax takes place in the German capital and metropolis Berlin. From September 10 to September 19, the best VALORANT teams in the world will compete with each other in the Verti Music Hall. For the health and safety of our players, staff, and local residents, the event will not be able to accommodate a live audience.
What's the schedule?
All times correspond to your time zone setting:
| Day | Broadcast start | Phase |
| --- | --- | --- |
| Friday, September 10 | | Group Play |
| Saturday, September 11 | | Group Play |
| Sunday, September 12 | | Group Play |
| Monday, September 13 | | Group Play |
| Tuesday, September 14 | | Group Play |
| Wednesday, September 15 | | Group Play |
| Thursday, September 16 | | Group Play/Quarter Finals |
| Friday, September 17 | | Quarterfinals |
| Saturday, September 18 | | Semifinals |
| Sunday, September 19 | | Finals |
To have a look at all upcoming games, head over to the
coverage on valorantesports.com
.
On-air talent
Masters Berlin will once again be covered by well-known faces from each of the three regions. Here are the line-ups for EU, TR, and CIS.
EU talent
Hosts
Yinsu Collins

James "Dash" Patterson
Casters and Analysts
Beatriz "kaquka" Alonso

Geo "Geo" Collins

Doug "EsportsDoug" Cortez

Rivington Bruce Bisland III

Arten "Ballatw" Esa

Sean Gares

Mitch "MitchMan" McBride

Michael "hypoc" Robins

Lauren "Pansy" Scott
TR talent
Alican "Karahan" Karahan

Berke "Vlad" Kantürk

Özgür "Root" Alagül

Eren "Hetze" Akın

Oğuz "Noeldayı" Avcı
CIS talent
Andrey "Anishared" Keretsman

Pavel "Rillion" Shabalin

Igor "Helix" Mescherykov

Vladislav "Rim" Rimskyi

Dmitry "Siberian" Kotsarev

Dmitry "Cracken" Knyazkin

Daniil "Jay" Rogachev

Nik "Dracon" Andreev
Where can I watch the games?
The tournament will be broadcast in many languages and the full list of channels can be found below:
How can I stay updated?
To stay up to date with the latest news on VCT EMEA, follow our social channels listed below:
I still have questions!
Still have questions? No problem!
Contact our support
at any time and we will get back to you as soon as possible or check out
our FAQ section
.
Photo credit: Riot Games