Masters Berlin boasts a prize pool of $700,000 and a direct spot at VALORANT Champions. There are four EMEA teams among the 15 participants. Let's take a look at all groups!
It's time! Masters Berlin will begin on Friday and it is bound to be the most prestigious VCT event yet. 15 teams from all across the globe have travelled to Germany's capital to determine who is the best among them and who will receive a direct invite for Champions in December as well as the lion's share of the $700,000 pize pool. EMEA will be represented by four teams: Challengers Playoffs winners
Gambit Esports
, runner-up
Papara SuperMassive Blaze
, as well as EU's powerhouses
Acend
and
G2 Esports
. Let's have a look at the tournament's line-up and what our EMEA representatives should expect!
SMB and Acend meet for a rematch
Two of EMEA's teams will meet directly in Group A: EU's top team Acend will take on Turkish champion SMB. The teams already competed in the Upper Bracket Finals at the EMEA Challengers Playoffs. Back then, the team of star player Mehmet Yağız '
cNed
' İpek had to admit defeat after SMB turned the series around, defeating Acend 2-1.
Their group is rounded out with by SEA team
Paper Rex
and the Korean top seed
Vision Strikers
. On paper, this is one of the toughest groups in the tournament. Considering the raw firepower of SMB and Acend, EMEA fans may hope that at least on of them will make it into the single-elimination bracket – and fear that one could very well eliminate the other.
LATAM champion returns to Masters
Alongside the three debutants in Group B (in terms of global competition),
KRÜ Esports
will stage their glorious return to VCT Masters. In Reykjavík, the South American squad had the unforunate task of facing
Fnatic
and
Team Liquid
very early on, failing to cause an upset.
Their qualification for Masters 3 speaks for their consistency. They have been grouped with
ZETA DIVISiON
from Japan,
Vivo Keyd
, and the North American third seed
Team Envy
. As there is no certain way of to know the differences in skill between these teams, it's almost impossible to determine a favourite here. Therefore we are extremely excited to hear what you think:
Gambit enter Group Stage as favourites
Gambit Esports are a force to be reckoned with: after barely missing the qualification for Masters 2, they showed superhuman endurance during the EMEA Challengers Playoffs. The team surrounding Igor '
Redgar
' Vlasov recovered from impossible situations in a number of games, most notably against SMB in the Grand Finals. Back then, the team suffered a painful 1-13 map loss but turned the series around to win 3-1 in maps.
The Russians may be the youngest team in the tournament, but they are champions already. In their group they take on
Crazy Raccoon
from Japan who also played in Reykjavík. Group C's line-up is completed by two number two teams from the Americas,
100 Thieves
(NA) and
Havan Liberty
(BR). Gambit are the big favourite in this group, but even if the odds could well be in their favour, this is no guarantuee that they'll advance, as we've seen plenty of upsets in VCT.
G2 in group of death
G2 Esports
went into the VCT season as favourites, yet they tasted some bitter defeats. Since they've rebuilt their team in June, only keeping ace player Oscar '
mixwell
' Cañellas, G2's performance and results have skyrocketed. One month after exchanging four of their players they made the EMEA Challengers Playoffs. Another month and a half later they booked their ticket to Masters Berlin. And now they could redeem themselves by qualifying for Champions directly.
In their hometown, Berlin, they are in a very tough spot, though. Their opponents will be the Korean number two
F4Q
as well as the undefeated Masters 2 champions
Sentinels
. Group D is the only group in the tournament that will play a double round robin format, as Bren Esports couldn't make it due to visa issues. While second place in the group will be enough to advance to the Playoffs stage, each of the three teams will have to play four best-of-three series. This could lead to interesting mindgames and it will be thrilling to see how the teams adapt to each other over the course of the Group Stage.
Who plays when?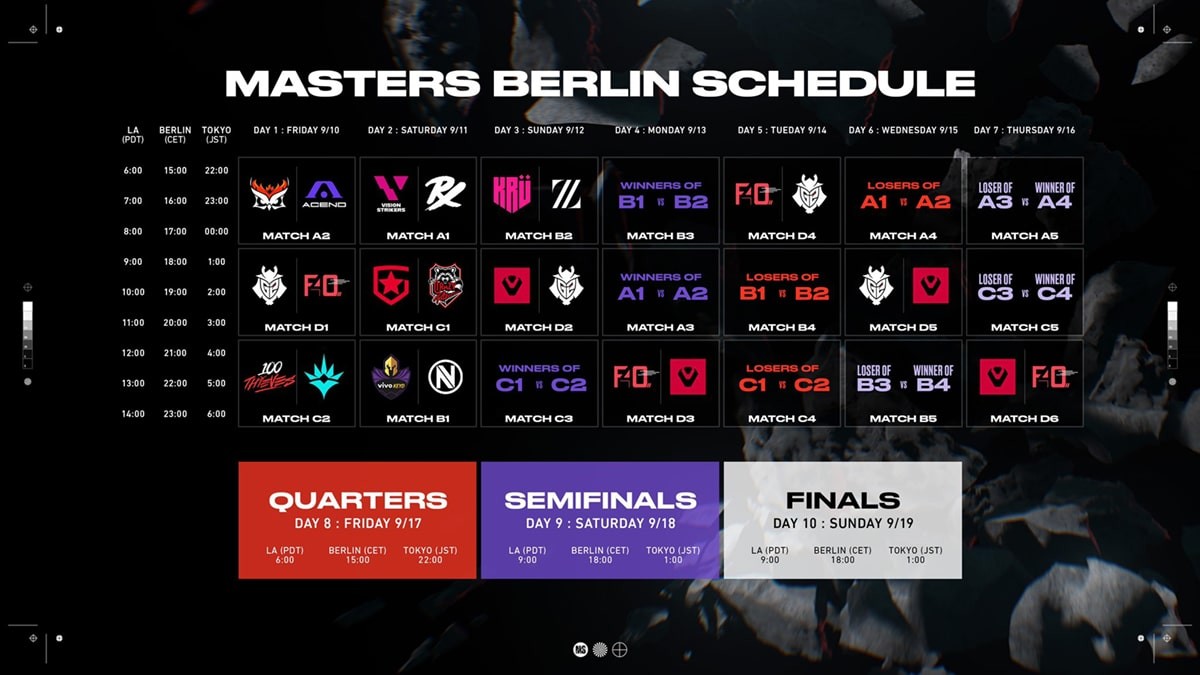 This schedule displays all the matches coming your way at once.
Photo credit: Riot Games
What will be on the line?
| Placement | Prize money | Circuit Points |
| --- | --- | --- |
| 1st | $225,000 | Qualified for Champions |
| 2nd | $125,000 | 375 |
| 3rd-4th | $85,000 | 325 |
| 5th-8th | $25,000 | 275 |
| 9th-12th | $10,000 | 225 |
| 13th-16th | $10,000 | 175 |
Learn all about Masters Berlin!
How can I stay updated?
To stay up to date with the latest news on VCT EMEA, follow our social channels listed below:
I still have questions!
Still have questions? No problem!
Contact our support
at any time and we will get back to you as soon as possible or check out
our FAQ section
.
Photo credit: Riot Games