In our winner interview Gambit Esports' Ayaz 'nAts' Akhmetshin talks about his victory at VALORANT's most prestigous tournament so far, grants us insights in his humble personality, and shares tips for becoming a pro.
Gambit's star Cypher and Viper virtuoso nAts has become extremely popular recently. But that's not just due to his skill at VALORANT or his achievements at Berlin Masters: the charismatic Russian has gained a huge following thanks to his humble personality. We sat down with him to talk about Masters 3, his personal life beyond the game and the upcoming Champions. In addition, he shares some tips on how to become an ace at VALORANT!
Congratulations on your victory! What does winning Masters Berlin mean to you?
Well, in fact, for us it is a huge confidence booster that we can perform on a level with other teams on the international stage. To be honest, regarding the next tournament it will be a huge experience for us. But we will not let what happened get to our heads now, we will just prepare for the next tournament.
Why were the map scores in the Finals and Semifinals so decisively in your favour?
As for the semifinals, we practised a lot with G2. We played with them at the tournament [EMEA Challengers Playoffs] and the preparation for them was easier. The 13-0 win on Icebox happened because our counter-strategy was at a high level. As for the final, it was already much more difficult. Even though we played 3-0, the maps were pretty tight. The opponent was from another region. NA teams have an unusual playstyle to us. It still seems to me that we took the key rounds, so the score ended up being 3-0.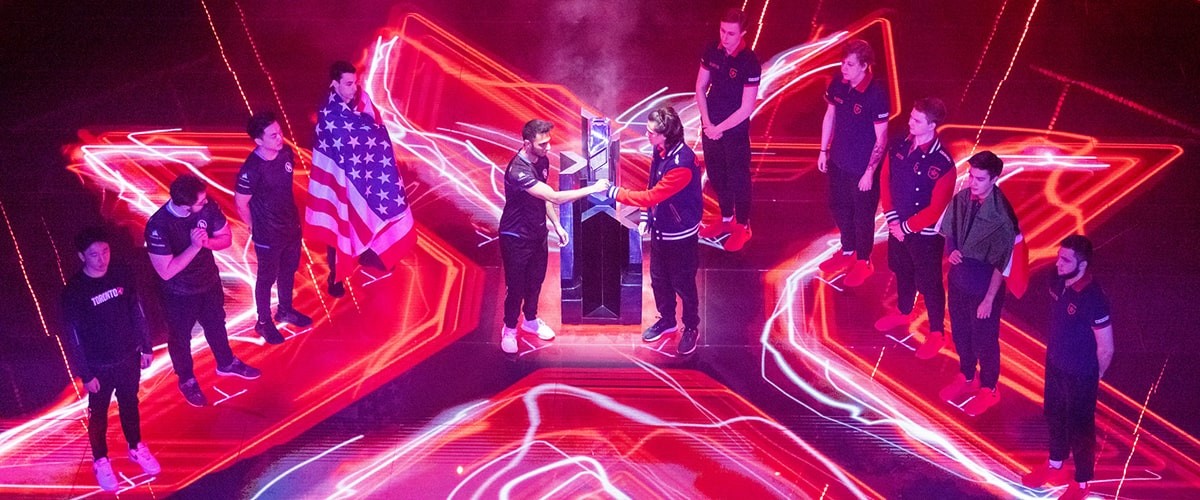 Gambit and Envy meeting for the final battle during the Grand Final opening ceremony at Masters Berlin.
Photo credit: Colin Young-Wolff/Riot Games
How much did the 13-0 against G2 Esports boost your confidence?
I don't think that was the most important thing that boosted our confidence. The most important match for us was the [second] game against 100 Thieves when we lost 11-13. After that moment everyone of us just realised that we can win that tournament, because we are fighting against a very good team and we had almost won with a crushing score, so in theory we could have easily beaten them. Only after that match we understood that we were capable of showing our best performance.
Why did the rest of the favorites fall short of expectations?


I considered Vision Strikers to be the favourites, because when you watch their demos, the team play and individual performance are at a high level, at least to me personally. Honestly, I don't know what they lacked in the tournament. As for us, we played well against them, but this team is really strong. I am not speaking about other teams in their region, but Vision Strikers' aim level and understanding of what is happening on the map are top-notch. I think they will show their real strength at the Champions.
The favourites were Sentinels and Vision Strikers. We knocked out VS, so there is no point in talking about them. But SEN, I don't know what happened to them. In the group stage, I thought they were playing just for fun, but in the Playoffs Envy showed that they fight on a completely different level on LAN. I don't know what really happened to the Sentinels, but I think they will prepare a lot for Champions and show a great performance.
What did your parents say to you after your victory?
My mum and dad congratulated me on WhatsApp: "Well done, our champion". And when I had eventually arrived home, everyone was busy, we didn't have time to celebrate this moment yet.
How did you feel when you realised that thousands of fans were watching your performance on stage?
Honestly, when I went to the tournament, I thought I would be jittery when I would go on stage and during the game. But when I went out to play the first match against Crazy Raccoons, I had zero emotions, I didn't feel too nervous. I just went out and with each match I had fewer emotions. I just went out and played like I was at home, sitting in my room by myself. Perhaps this will change with a real audience.
Aren't you afraid that the fame will go to your head after such an amazing success?
I don't think that I'll let that go to my head. When I look at popular people, I think "Damn, they've became popular, I wonder if they consider themself a star or not." If I became such a person I would be disgusted with myself, and even if it somehow came to this, I'd have my brother, who would make me come down to earth. I also have my girlfriend and my parents, with them there is no chance that it would come to this ever.
Thank you everyone who is watching my streams and supporting me. That makes me happy so much. I really appreciate everything what my fans doing for me 😍😍
LOVE YOU MY FANS❤️❤️

— Gambit nAts (@nAts__ss) September 23, 2021
Did you sleep well the first night back home?
I slept for five hours and after that I went to the stream. I do not remember if I even dreamed anything.
Chronicle said in an interview that your team is considering taking two weeks off after Masters. What are you going to do on this little vacation?
I honestly don't know how much time we are going to take off. It's two weeks or less. But I'll play VALORANT on stream for two to three hours and that's it. I won't play anything else. There are many other things I need to deal with - media, university.
What are you going to do with the money you earned if that's not a secret?
I will save the money I earned, probably like all the rest. To be honest, I dream of buying my own apartment.
What allows you to achieve such amazing scores (kills/assists) as a sentinel player? Other players in this role rarely end up at the top of the table.
As for my game, I probably prepare like everyone else. I just play the game a lot and try to practise stability. Perhaps this is what helps me to compete in tournaments. In fact, our team play is very good. Because of that, all sorts of team moments allow me to get out in some situations on the map. My stable aim and understanding of the game allow me to consistently be somewhere in the top three.
How does experience in traditional sports help in pro gaming? Is your discipline better or does it strengthen you mentally?
I had no such experience from sports. Some people told me about it, like our coach Engh and my brother, who was involved in professional sports. They tell you how it should work and how much time you should be devoting to it. Honestly, until the moment I got into Gambit, and in general, until I started working with Engh as our coach, I had no idea that it takes so much time and effort to achieve something. It seemed to me that I was already giving a lot, but only now have I realised how much I should devote to it in reality.
What are the three tips for young players on how to achieve the same level of play?


And thirdly, I think this is the most essential approach to professional play - do not change your settings. It seems like a trivial thing, but no one really pays attention to this. To be specific, you need to lock the crosshair so it's perfect for you and find and lock the sensivity of your mouse. For me personally, this has a very strong impact. If you stick with one [setting] and constantly play on it, then the results will come by themselves.
The main tips that apply to any game: the first is to play a lot. It is really important to play seriously, not just having fun with friends. You have to set a specific goal to achieve results and to progress. Second, you need to be a professional not only in the game, but also in life. You need to follow the daily routine, you simply cannot slack. You have always got to try to do everything according to schedule.
Boaster was beyond happy as you basically booked the Champions ticket for Fnatic. Would you like to say a few words to him and his team?
I want to fight against them because they beat us in the EMEA [Challengers Playoffs Stage 2] and qualified for Iceland. We want to show them our best at Champions.
How are you going to prepare for Champions?
Actually, talking about preparing for Champions, it's like always: we're just gonna play a lot. And sometimes you are being blamed for that, cause your day is very busy: you are just playing the game. You just wake up, go to practice, and play, play, play. Then you go to sleep, rinse and repeat - all day, every day. Maybe that's gonna be annoying but that's my job and I have to do that.
Photo credit: Colin Young-Wolff/Riot Games