G2 Esports will play in the Last Chance Qualifier against seven other EMEA teams for the last ticket to Champions. We talked with Cista 'keloqz' Wassim and Jose Luis 'koldamenta' Aranguren about their preparation, their chances at LCQ, and koldamenta's former padawan.
G2 Esports have been one of the household name teams since VALORANT's earliest days, winning plenty of tournaments in 2020. After disappointing in VCT Stages 1 and 2, the team exchanged four members, only keeping star player Oscar '
mixwell
' Cañellas. The team quickly developed an unbelievable chemistry and camaraderie which was rewarded with a spot at Masters Berlin, where they placed 3rd-4th after falling short against
Gambit Esports
in the semifinals.
The team missed direct qualification to VALORANT Champions in December by a very small margin, and now they have to give it their all at the Last Chance Qualifier against seven other EMEA teams. Prior to the event, the experienced esports veteran koldamenta and his teammate, 18-year-old rising star keloqz, joined us to talk about G2's team spirit, what makes them, in their opinion, the best team at the LCQ, as well as why they lost to Gambit in Berlin.
Koldamenta and Keloqz, thank you so much for joining us in this interview. How are you feeling and how is your preparation going?
koldamenta: We are feeling very confident about the Last Chance Qualifier. We know we are one of the favourite teams. People expect us to do well and so do we. We've been practising a lot lately and we are really focussed on improving all the maps.
keloqz: I think in Europe there is no team that's better than us. I think we are the best team.
That's a huge statement. So which teams do you think could give you a hard time though in the LCQ? What makes them dangerous?
keloqz: If we lose, it will be because of us not because of them. There is no team that can beat us in Europe [EMEA]. Maybe there are some in the world, but we are just too good for those in Europe [EMEA]. If we lose a game, that's not because the enemy team is good but because we maybe played like butt.
Sometimes you win, sometimes you learn. Time to prepare for the last chance qualifier. Thanks for your support.

A veces se gana otras se aprende. Hora de preparar el siguiente torneo en tres semanas. Gracias por el apoyo a lo largo del torneo!!! pic.twitter.com/rvu9I8TsAt

— G2 koldamenta (@koldamenta) September 18, 2021
koldamenta: The strongest team apart from us is perhaps Liquid.
keloqz: Yeah, the strongest team is Liquid.
koldamenta: And perhaps SuperMassive as well.
keloqz: SuperMassive, you think? I mean they are good, but I don't know. I feel like the one that can be really, really dangerous is Liquid.
koldamenta: I mean they have a new player now [Nabil '
Nivera
' Benrlitom, Adil '
ScreaM
' Benrlitom's younger brother], so there is a question mark for me. I don't really know how they are gonna play with him or what kind of Liquid this is gonna be.
So, Liquid is more in a testing phase right now, you think?
koldamenta: Well yeah, until I see them play I cannot tell how much of a difference there will be. I mean Kryptix was a good player, a good Sentinel, he's been playing the role for a long time. I don't know how much experience Nivera has in the game.
keloqz: Well, he used to be a sniper in CS and he was extremely good at it. But in VALORANT it's different. If he doesn't play Jett it's weird, because you cannot play Operator without her. We'll see what happens. He is a good player. I would really like to play against them!
Speaking of new players: ever since you two, and of course AvovA and nukkye, joined the team, G2 has got back on track. How did you get such a well working team chemistry in such a small amount of time?
koldamenta: It's not easy. Everyone has to make sacrifices...
keloqz: ... and to evolve it...
koldamenta: Yeah, everyone needs to be wanting to be the best. Everyone on the team is really dedicated. I feel that is the key on this team.
keloqz: And you need to be ready to lose and to accept defeat. And that's why I think we are really good. I'm convinced that we will win the LCQ. Because even if we lose, we'll accept it. I see this as a strength.
Mixwell is the only player from the old line-up. What do you think about him? Is he different from what you expected?
koldamenta: Before I joined I already thought he was one of the smartest and best players in Europe. He treats his teammates really well. To be honest it's even better when you get to play with someone who is so popular. He has a huge following. You'd expect someone like that to have a bigger ego when it comes to in-game decisions, but it was rather the opposite. That's what surprised me. The rest was as I expected.
keloqz: When I joined G2, mixwell was like a big brother to me. He let me play Jett and made me feel very comfortable. He's a great guy and he helped me a lot to get good. He took care of me and it's really nice to have someone like him on the team.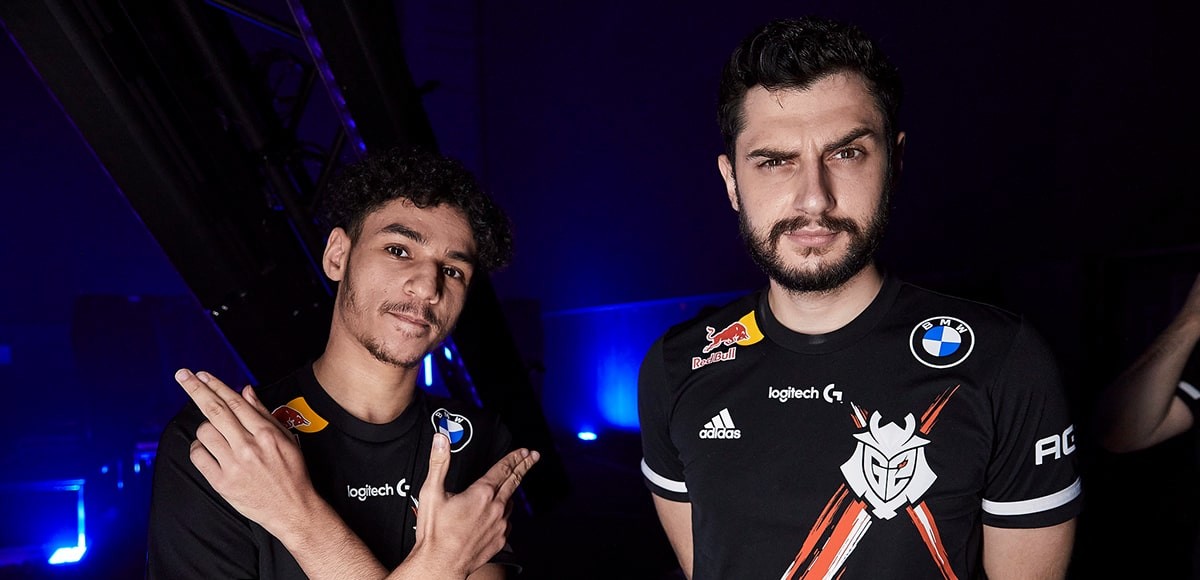 Keloqz has found a mentor in popular star player mixwell.
Photo credit: Lance Skundrich/Riot Games
What surprised you two the most when joining G2?
keloqz: To me it was the office. It is so big! I went into this building and the office is just huge.
koldamenta: One of the things that keeps surpsing me is how many supporters we have. Everytime I see the numbers for our games and how much we are growing everyone on social media like Twitter and Instagram. Everyone on the team gets messages from people and that was the biggest surprise for me. I knew there were a lot of people, but I didn't expect them to be so many.
keloqz: And the supporters are helping us a lot. Big love to all our fans! Keep going and we are gonna win! I love you guys!
We'll make sure to let them know! Keloqz, for you G2 is the first major VALORANT team you are a part of. What's it like for you?
keloqz: It's probably the biggest organisation in esports and to be part of this team is like... I love my life, I love what I'm doing, I love to be a part of G2, and I just want to win everything with them.
Before Stage 3 you were not that well known, keloqz, but you got on stage and simply rocked everyone, hyping everybody up so much. Where does this confidence come from? Weren't you nervous at all?
keloqz: When I went to the stage [for the first time] I was a little bit nervous, but mixwell had my back. I was like "okay, it's fine I'm going to pretend I'm home and play a scrim". Then I just played a scrim and killed them. Also, koldamenta was being so funny all the time *laughs*. We won and I was so happy. The next step will be Champions and I'm going to do the same there. We are going to win.
Koldamenta, starxo was known to be your padawan back at Acend. Do you see yourself as someone you likes to teach? And do you have a similar relationship to keloqz?
koldamenta: Who said that about starxo and me?
i guess u forgot about quote that says the student surpassed the master, better focus on your upcoming game vs fpx, cause u might get knocked down pretty fast 😘

— starxito (@starxo5) July 4, 2021
Basically your Twitter interactions.
koldamenta: Oh yeah, I had a really good relationship with starxo. I guess keloqz is similar because starxo always had a lot of energy and he cracked a lot of jokes. I had a really, really good relation with him, and actually we still have it. I still love him a lot as a person. And for keloqz I feel the same.
keloqz: Wait, wait, wait! You are cheating on me?! Oh my god! My boy!
Both: *burst into laughter*
koldamenta: I mean it's like I said: there can be so many boring times and days when it's always the same. If I don't have someone like that on a team, it's going to be very boring.
Are you proud of your former padawan's achievement making it to Champions? What will happen, should you two play against each other there?
koldamenta: Yeah, I'm really happy for him and all of them [Acend].
keloqz: *coughs really loud*
koldamenta: *laughs* I just don't know, I'm really happy for them and wish I was there. I think both teams are going to be there and I really want to play against them. I think since I joined G2 we've never played them in an offical match.
kelqoz: No, we played them.
koldamenta: We played? In that 'seeding game' or not?
keloqz: Yeah, in the final [of Stage 3 Main Event 1]. We lost 1-3.
koldamenta: Oh yeah, I remember. But I think when it matters we are going to destroy them.
both: *laugh and chant*
Before we end this interview, we have to put our fingers into the wound. We hope this doesn't spoil your mood: Can you talk to us quickly through what exactly happened on Icebox against Gambit where you lost 0-13? And what will you do differently next time when you meet them?
keloqz: kolda will answer this.
koldamenta: No, you will answer.
keloqz: Sorry, I don't speak English. Hello! *laughs*
koldamenta: That series caught us a bit off-guard. The first map was Breeze and we didn't expect to play it or for them to pick it. That probably shook our confidence.
keloqz: It was shambolic!
koldamenta: Yes, it was shambolic even before the game started. We could have won it, but we went into Breeze without any clue of what we were doing because we practised this map only one day in one month and half. Then we played it and it felt like we threw because we could have won it. Then on Icebox we changed some things as well but that wasn't the right thing and we made huge mistakes in a couple of rounds. Also they were already qualfied for Champions and we lost our momentum we had on Breeze. As we started losing, it was way more important to us than it would have been to them. We gave them all the confidence to take it all. It was a combination of all that.
Thank you very much! If you want, both of you can now address some words to your fans!
keloqz: I love you guys! Thank you for all the support. We are going to need you for the Last Chance Qualifier, so join the stream, help us on Twitter, and we are going to win this. I love you guys!
koldamenta: We are practising a lot. We will give our best and I hope they'll support us as always. *both start chanting*
Follow keloqz, koldamenta and G2 Esports on Twitter:
keloqz
koldamenta
G2 Esports
How can I stay updated?
To stay up to date with the latest news on VCT EMEA, follow our social channels listed below:
I still have questions!
Still have questions? No problem! Drop a
message to our support team
at any time and they will get back to you as soon as possible or check out
our FAQ section
.
Photo Credit: Lance Skundrich/Colin Young-Wolff, Riot Games