Champions is the final event of the 2021 VALORANT Champions Tour and represents the culmination of the competitive VALORANT season. The victorious team will become the first ever VALORANT Champion. Here is everything you need to know about the format, brackets and groups! Champions Berlin is right around the corner! All year long, more than 10,000 teams from around the world battled across regional Challengers and international Masters to earn one of the sixteen spots at Champions, the final event of the inaugural season of the 2021 VALORANT Champions Tour. From December 1-12, qualified teams will compete for the Champions trophy and the title of VALORANT World Champion!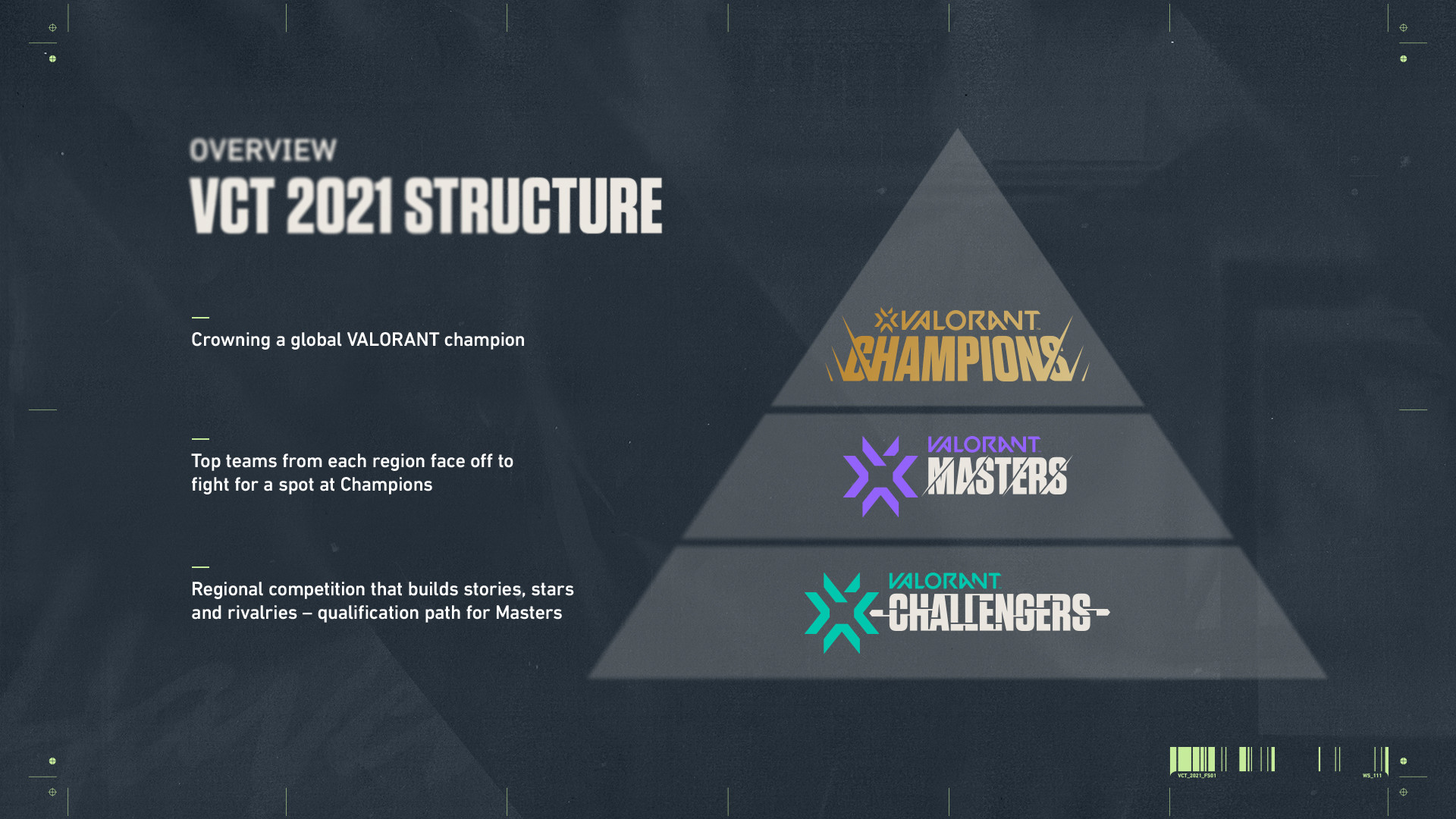 Sixteen teams to compete for the trophy


Champions Berlin will be the largest international tournament to-date for VALORANT. Each of the seven participating VCT regions qualified teams into the event through three different methods: VCT Points, victory at the final Masters event, and the four Last Chance Qualifiers.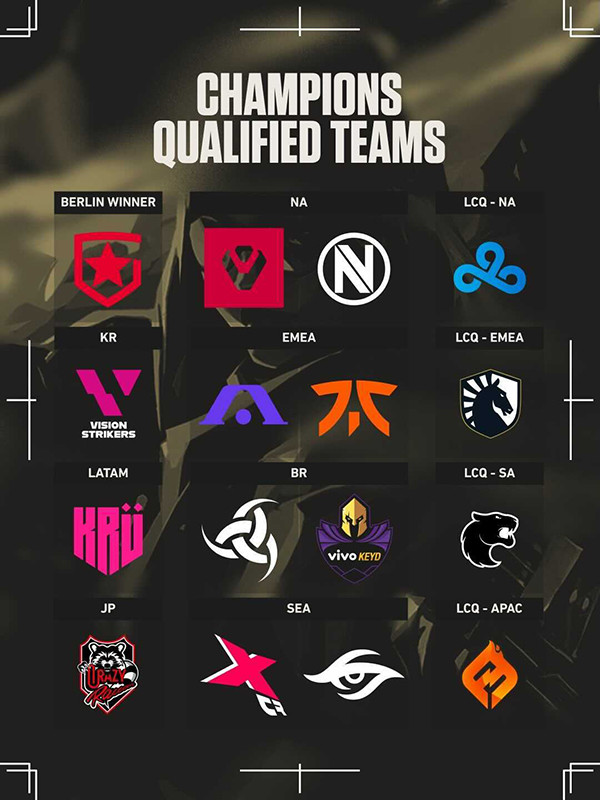 These are the sixteen teams who will compete for the World's Championship:


| Region | Team |
| --- | --- |
| EMEA | Acend |
| | Fnatic |
| | Gambit Esports |
| | Team Liquid |
| North America | Cloud9 |
| | Sentinels |
| | Team Envy |
| Brazil | Vivo Keyd |
| | Furia |
| | Team Vikings |
| Korea | Vision Strikers |
| Japan | Crazy Raccoon |
| LATAM | KRU Esports |
| SEA | X10 Esports |
| | Team Secret |
| | Full Sense |
What will the tournament's format look like?


The tournament will consist of GSL style group play, followed by an eight team single elimination bracket. Teams were first sorted into four draw pools based on a combination of their respective final placements at Challenger events and the strength of their region. These are the four groups:



Next up, each team in each pool was randomly drawn into one of the four groups (Groups A-D). If at any point a team was drawn into a group which already had a team from their region, then they were placed into the next alphabetically sequential group. If they are the final team to be drawn from their pool, they will be moved backwards through the groups until a valid group is landed on. Once a full pool has been drawn and becomes fully valid, the results of that pool are locked and cannot be moved. Pool 4 contains 2 Brazil and 2 SEA teams. To avoid a conflict, the #1 seeds for BR and SEA cannot be placed in the same group.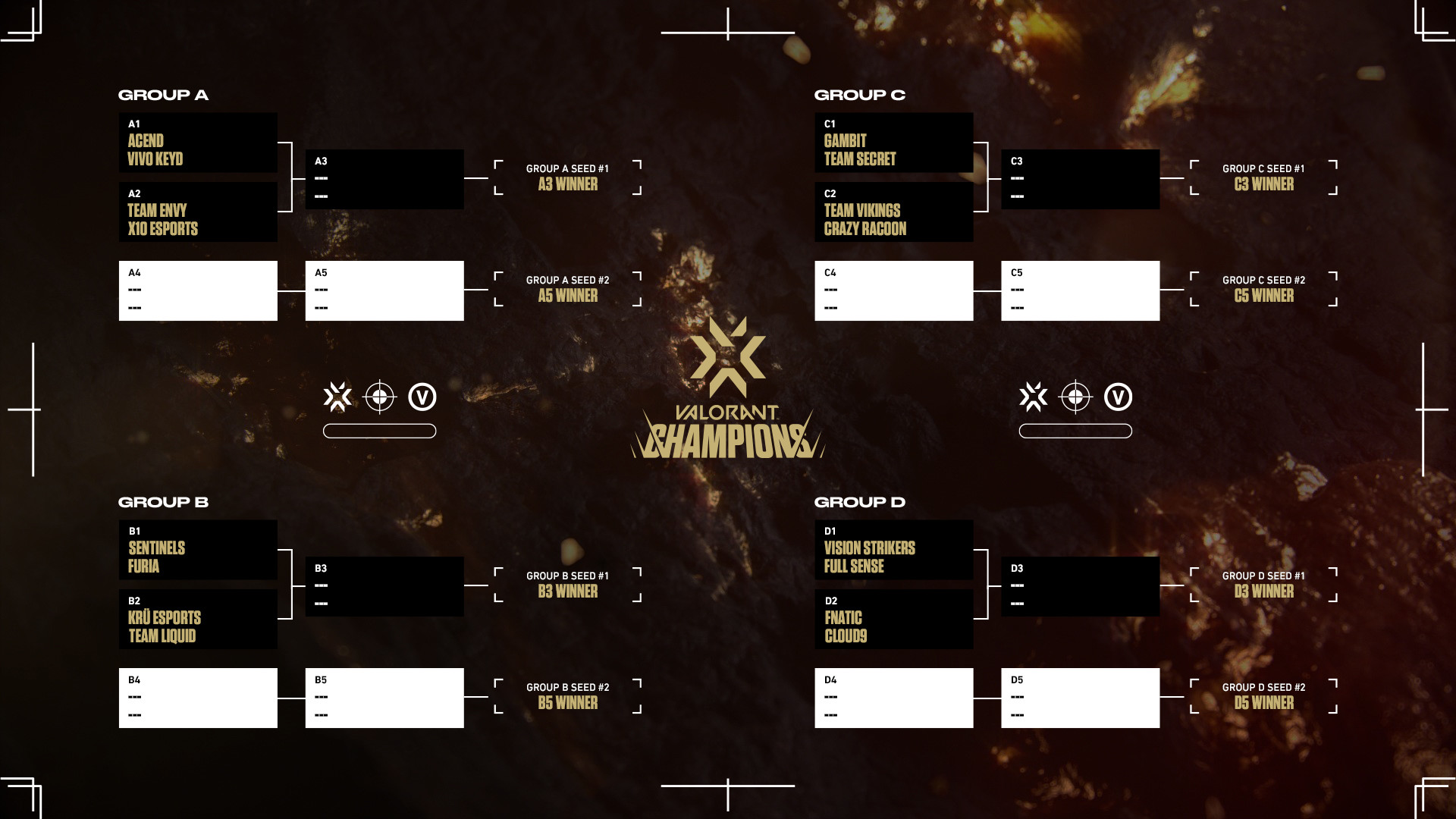 During the Group Stage, teams will compete through a four team double elimination bracket to identify two winners from each group. In the first round of each group, teams from Pool 1 will face teams from Pool 4 and teams from Pool 2 will face teams from Pool 3.


What prize pool are the teams fighting for?


Next to the title of the first ever World's Champion and prestige, the teams will also be fighting for the biggest prize pool in VALORANT esports so far:


| Placement | Prize money |
| --- | --- |
| 1st | $350,000 |
| 2nd | $150,000 |
| 3rd & 4th | $90,000 |
| 5th to 8th | $40,000 |
| 9th to 16th | $20,000 |
When and where will the event take place?


The games will take place from 1 to 12 December. Just like in Masters 3, the participating teams will compete in the European metropolis Berlin. For the health and safety of our players, staff, and local residents, the event will not be able to accommodate a live audience.


What's the schedule?
All times correspond to your time zone setting:
| Date | Broadcast Start | Phase |
| --- | --- | --- |
| 1 December | | Group Play |
| 2 December | | Group Play |
| 3 December | | Group Play |
| 4 December | | Group Play |
| 5 December | | Group Play |
| 6 December | | Group Play |
| 7 December | | Group Play |
| 8 December | | Quarterfinal |
| 9 December | | Quarterfinal |
| 10 December | | Break |
| 11 December | | Semifinals |
| 12 December | | Finals |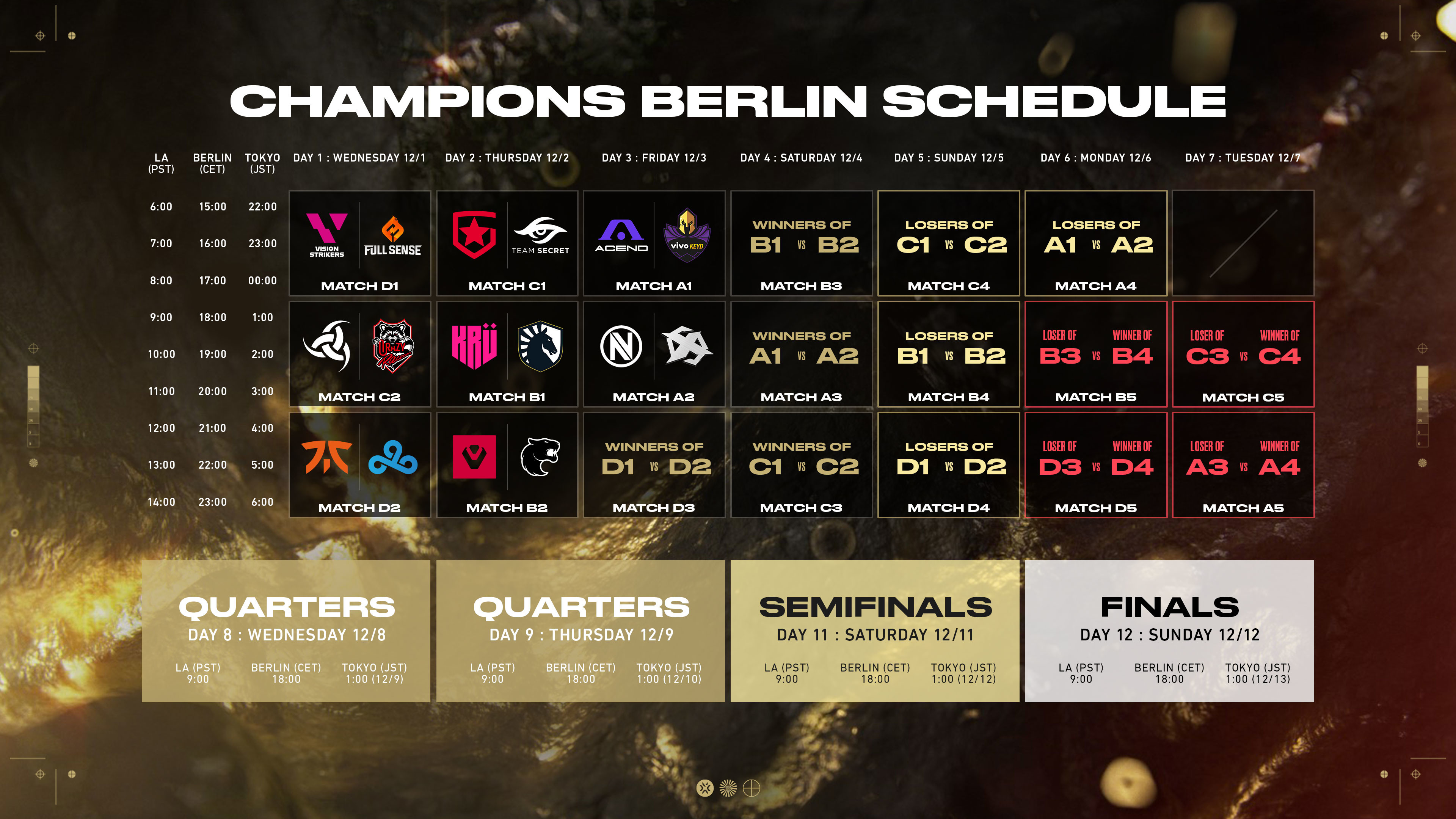 Where to watch the games?


The tournament will be broadcast in many languages, the full list of channels can be found below. Additionally, this will be the first VALORANT event streamed on Trovo. Trovo is a video game live streaming platform exiting beta, focused on allowing more content and people to be seen and connected. Centered around the core values of inclusiveness, interactivity and empowerment, Trovo's key features enable better support for all.

Here's a list of all of the official VCT channels which will be streaming Champions:

Trovo


Twitch


YouTube



Will there be Watch Parties again?


There will again be Watch Parties for the epic finale of 2021 VCT! Follow our social media channels below to stay updated about paticipating content creators.


How can I stay updated?


To stay up to date with the latest news and information on VCT EMEA, follow our social channels listed below:




I still have questions!


Still have questions? No problem! Drop a message to our support team at any time and they will get back to you as soon as possible or check out our FAQ section.

Photo credit: Riot Games