In an interview with the coach of Masters 3 Champion Gambit Esports, Andrey "Engh" Sholokhov tells us about the preparations for the World Championship and what his team is excited about. Only one week until we see the 16 best VALORANT teams in the world competing for the title of the first VALORANT world champion. Before starting into the most important competition of the year, we talked to Andrey "Engh" Sholokhov, coach of the Masters 3 winners Gambit Esports, about his thoughts on the upcoming tournament and what we can expect from his team.

Hi, Engh. Thanks for taking the time! Are you happy with how the preparations are going?



We prepared for Champions just as usual, gathered at a bootcamp for two weeks and we will now continue to practise in Berlin. The training process for Champions has changed slightly, because of various unforseen circumstances we had to deal with. To be honest, I'm not very happy with our preparation. If you look at things realistically, after Berlin our performance fell off. It seemed like we've lost motivation, but the bootcamp gave us a new boost. We analysed a lot and trained more than ever before. If I was asked to rate our form before the bootcamp, our maximum result would have been top 8, but I think we could manage to make it up to top 4. And I hope we will be able to get in even better shape once we're in Berlin.



Do you think you will still be able to repeat your victory from Masters 3 and become world champions as well?



We might have won Masters Berlin, but neither before EMEA Playoffs and the CIS qualificactions, nor before Berlin did we think that we may win. We are trying to prepare for the tournament itself, but once there, we just play as usual. You have to play with what you have, prepare for your opponent and that's it - otherwise it's too much pressure. Therefore, I cannot say if we will win or not. We'll just try to do it and that's it.



Throughout Masters 3, you already played against many regions and teams. What teams are left that you would like to play against?



I would really like to play against Sentinels at Champions. I still think that this is one of the best teams in the world. They came into Masters Berlin with old strategies and only made minor changes to them. From what I've heard, not everyone on the team took the tournament quite seriously. I think, the Sentinels at Champions will be quite different from the one we saw at Masters 3 - they will be pretty strong.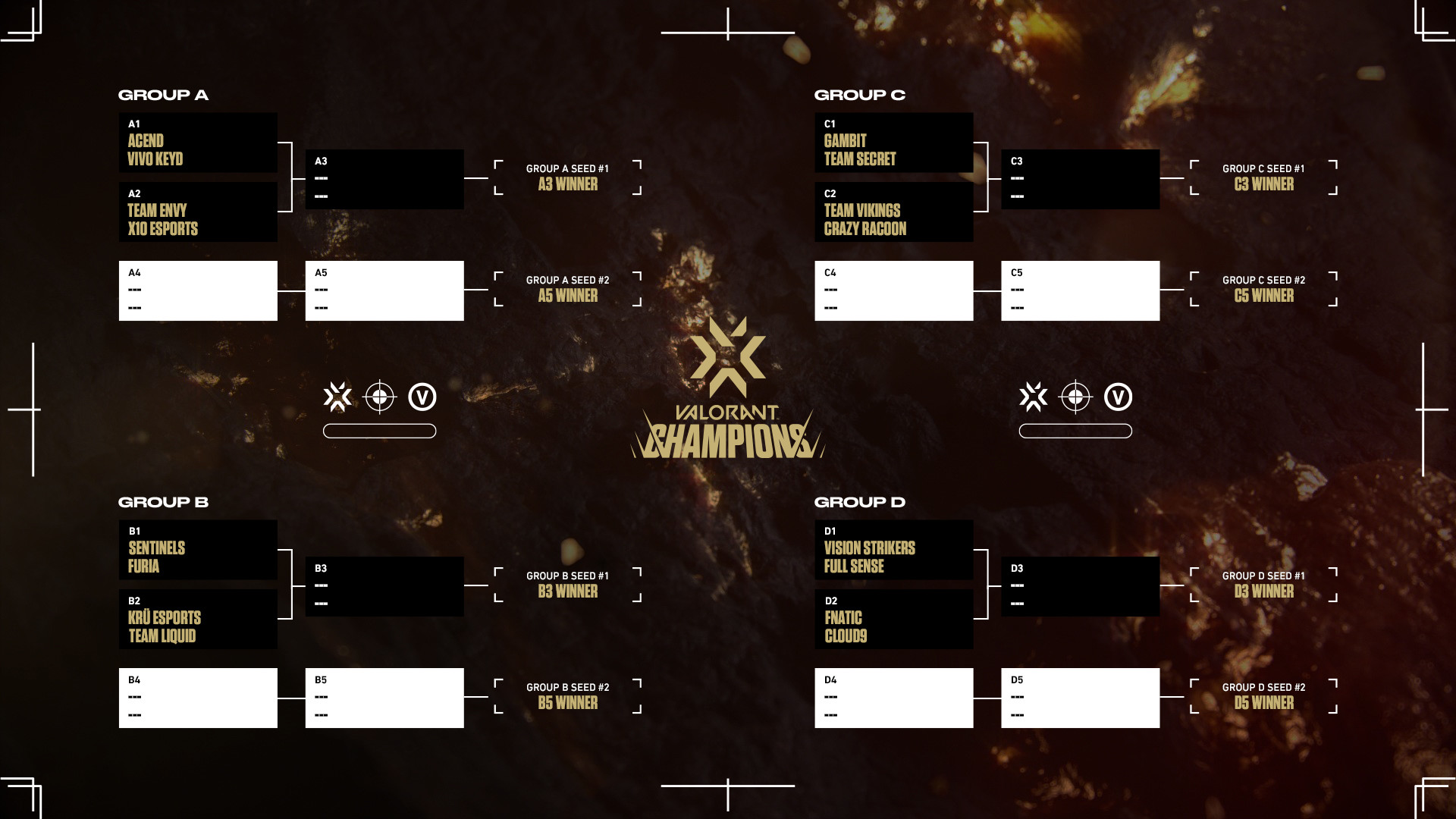 These are the four groups at Champions. Only the two best teams from each group will advance to the quarter finals.



Which teams from your group do you respect the most?



We have already played against Vikings during the bootcamp and I consider them a very good team. Them and the Raccoons will be the main competitors in the group. I can't say anything about Team Secret though, because I haven't watched their games yet – but I will do so in Berlin.

What two (or even one) regions are most likely going to make it to the final?



It seems to me that there will most likely be either European and/or North American teams in the finals. Who knows, maybe there will also be two American teams, but I think it comes down to a final fight between EMEA and NA.

What can we expect from Gambit on the new map Fracture?



Fracture is a working map for us at the moment. I cannot say that we've practised it a lot, but we have got some quite satisfying results on it, so if there is any opportunity to play it, we will play it. That's all.

Photo credit: Riot Games